This script will assist with editing track names using the Unix command-line sed.
Select some tracks, run the script, and enter a sed command (eg: s/ (Bonus Track)// or s/_/ /g). Obviously, your familiarity with sed and regex increases its purposefulness. However, for the sed-phobic, the display always defaults to s/replace_me/with_me/ for simple search-and-replace operations. The adventurous may also find it of use as the basis for other tag-editing scripts.
Action shot: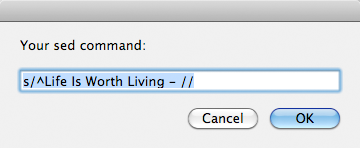 Simply enter a sed command which will operate on all the selected tracks' name tags.
Info:

file format:

Script Bundle

Gatekeeper Security:

None

written by

Matthew Moss

current version downloads:

2775 |

total downloads:

3065

.zip download size:

273.3K
Perhaps Also of Interest...
10 Most Recently Added
UPDATED yesterday:


List MIAs v4.10
Display, create text file listing info of dead tracks

UPDATED yesterday:


Quick Convert v4.7
Convert or import tracks with any encoder on the fly

UPDATED yesterday:


CD Text to CD Info v4.6
Apply selected CD's CD Text to its disc and track tags

UPDATED yesterday:


Album Rating Reset v3.5
Batch-change the Album Rating for the albums of selected tracks

UPDATED 2 days ago:


Super Remove Dead Tracks v4.10
Remove iTunes tracks disassociated from files

UPDATED 2 days ago:


Not In Any Playlist v2.10
List tracks not assigned to playlists

UPDATED 2 days ago:


Remove n Characters From Front or Back v5.10
Delete characters from the beginning or ending of selected tracks' name, artist, album, comments, composer, or show tags

UPDATED 2 days ago:


Sundry Info To Comments v4.5
Paste non-ID3 Tag track and file-related info into Category, Comments, Description or Episode ID tag

UPDATED 2 days ago:


This Tag That Tag v4.12
Applet assists with swapping, copying, appending data between track tags

UPDATED 2 days ago:


Set Video Kind of Selected v5.6
Change video kind and video related tags of selected video tracks
Doug's Check for Update Applet
30 Most Recent RSS Feed