OS X 10.10 or later and iTunes 12.4 or later. This stay-open applet will monitor iTunes and send tag and time-of-play information of each track that plays (including iTunes Radio and internet radio streams if they provide track info) to a text file. Preferences can be set to include or not include various basic tags and to create a plain text file or a tab-delimited text file which can be imported into a spreadsheet.
Action shot: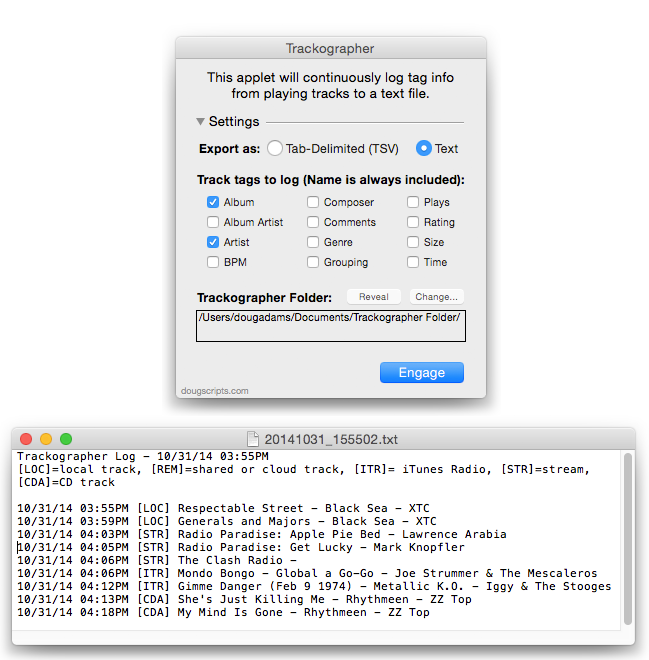 "Trackographer" will monitor iTunes for playing tracks and log info about each played track to a text file, either as a plain text file (as in the sample above) or as a tab-delimited text file for importing to a spreadsheet.
Info:

file format:

Application (Applet)

Gatekeeper Security:

Authorized Apple Developer ID

written by

Doug Adams

current version downloads:

15 |

total downloads:

1506

.zip download size:

546.2K

download ⬇

Current v5.2

Free to use, but a payment

in appreciation is

requested

.

Thanks for your support!
Perhaps Also of Interest...
10 Most Recently Added
UPDATED 7 days ago:


New Play Count v3.0
Set the Plays of selected tracks

UPDATED October 27, 2018:


Drop and Export Artwork v1.2
Export image metadata from drag-and-dropped audio files

UPDATED October 26, 2018:


Show Me The Metadata v1.2
Display a selected file's audio and Spotlight metadata

UPDATED October 15, 2018:


Size of Artwork v2.0
Display the width x height of selected track's artwork

UPDATED October 14, 2018:


Comments Search v1.2
Search Comments tags of Music tracks, copy track results to playlist

UPDATED October 13, 2018:


Clipboard as Artwork for Selection v1.1
Copy clipboard image directly to selected tracks as artwork

UPDATED October 13, 2018:


Clipboard to Multi-Tracks Lyrics v2.0
Paste text contents of the clipboard to each of the selected tracks' Lyrics tag

UPDATED October 12, 2018:


Copy Tracks to Multiple Playlists v4.2
Copy selected tracks to one or more playlists

UPDATED October 7, 2018:


Batch Trim Start or Stop Time (Seconds) v2.3
Change selected tracks' Start Time or Stop Time by user-entered seconds

UPDATED October 7, 2018:


PDF Adder v5.6
Assists with tagging and adding PDF files to iTunes
Doug's Check for Update Applet
30 Most Recent RSS Feed