Stuff a thumb drive with songs from your iTunes library.
M3Unify is a flexible file exporter and M3U playlist creator that will allow you to off-load copies of your iTunes songs to a user-chosen location—separate folder, external drive, USB thumb drive, SD card and so on—the way you and your audio player want.
M3Unify can archive playlists and audio files to a folder, volume or portable media and includes options to create Artist/Album sub-folders, rename files, convert to AAC (or MP3 via iTunes), export album artwork, and more.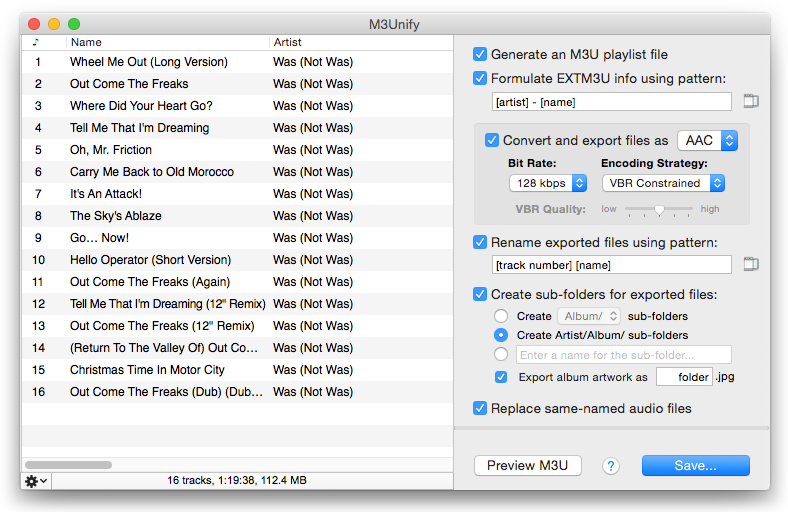 With M3Unify you can:
Copy files of tracks dragged from iTunes to a selected folder
Rename copied files using substitution patterns based on track tags
Create Album or Artist/Album sub-folders based on track tags
Export album artwork as "folder.jpg" files, one per Album sub-folder
Create an M3U playlist
Format M3U Extended track information using substitution patterns based on track tags
Optionally convert files to AAC files (or MP3 files via iTunes)
Plus, M3Unify features:
M3U preview
Track information and auditioning
Uncluttered, easy-to-use interface
On-board and online help
M3Unify is easy to configure and use. (Watch the video demo, below.) Download the demo and try it out for yourself now.
System Requirements
OS X 10.8 or later
Compatible with OS X 10.11 (El Capitan)
iTunes 11 or iTunes 12
Gatekeeper Security: M3Unify is signed with an authorized Apple Developer ID
M3Unify does not work with Microsoft Windows
Updated in version 1.4.0:
Adds option to export to discrete Artist sub-folders
Toggle option preference to group compilation albums
Adds View Options panel (Command-J)
Additional support for OS X 10.11 El Capitan
Minor tweaks and performance enhancements
august 31, '15
This update is free for registered users of M3Unify.
Purchase and Register
The un-registered demo version of M3Unify will work with up to fifteen tracks at a time.
The full version of M3Unify costs $5.00.
After your payment is received you will be emailed a registration code and instructions which will remove the demo restrictions on M3Unify. You'll also be supporting continued development of M3Unify.
You can make safe and secure payments using your credit card. Just click the PayPal "Buy Now" button below.
PayPal users: Payments made by PayPal eCheck will take up to 5 business days to clear. As soon as your eCheck clears with PayPal your registration code will be emailed to you. (Your payment will be by eCheck if you do not have a credit card attached to your PayPal account or your PayPal account is "unverified".)
Web mail users: There is a likelihood that emails from me will be routed to your spam or junk mailbox. As soon as you receive the PayPal confirmation, check these mailboxes for the email containing your registration code. Otherwise, if you don't receive your code, let me know; it may take me a day or two to manually send you a code.
If you have any problems, ideas or suggestions, please email me.

My name is Doug Adams,
dougscripts at mac dot com.

This application uses reasonable precautions to protect your data, but that is no guarantee against unforseen situations on your computer. While no files can be affected by this software, I make no guarantees to this application's effectiveness on your computer and cannot take any responsibility if something goes wrong while using this application.