This script will export and sort the files of selected tracks into Album-named folders in the Finder. Or, optionally, the files can be exported/sorted to Artist (or Album Artist) folders and Album subfolders. The selected tracks needn't be pre-sorted; the script will use each selected track's tags to construct the folders. Might be handy for SD card users.
For OS X 10.6 or later.
Also see Export Files to Folder and ConvExp to Album Folders.
Action shot:
Select a location in which to create the folders and export the files. Selected options are saved as defaults on the next use.
Latest version:

Adds "album artist" folder option
January 8, 2014

Info:

see the

read me PDF

short url:

http://dougscripts.com/508

category:

Managing Files

build type:

Cocoa-AppleScript

Gatekeeper Security:

Authorized Apple Developer ID

written by

Doug Adams

latest version downloads:

1084 |

total downloads:

3415

download size:

464.8K
Popular Now
Play through each track in a playlist at your set interval
Renumber order of selected tracks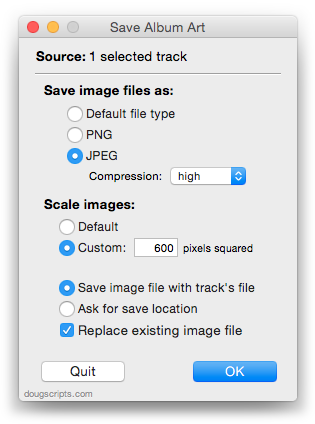 Deletes the current track from all playlists and moves to Trash
10 Most Recently Added: