Apps Assist
PLEASE NOTE: As of iTunes 12.4, Apple has changed the way app information is made available. The current version of Apps Assist will not work with iTunes 12.4 or later.
Apps Assist is a utility application that will scan your iTunes library and list the iOS apps—and information about them—that are installed, missing (grayed-out generic app icon in iTunes) or no longer installed and just taking up space in the Mobile Applications folder. Using this list, you can manage your apps and Mobile Applications folder more easily.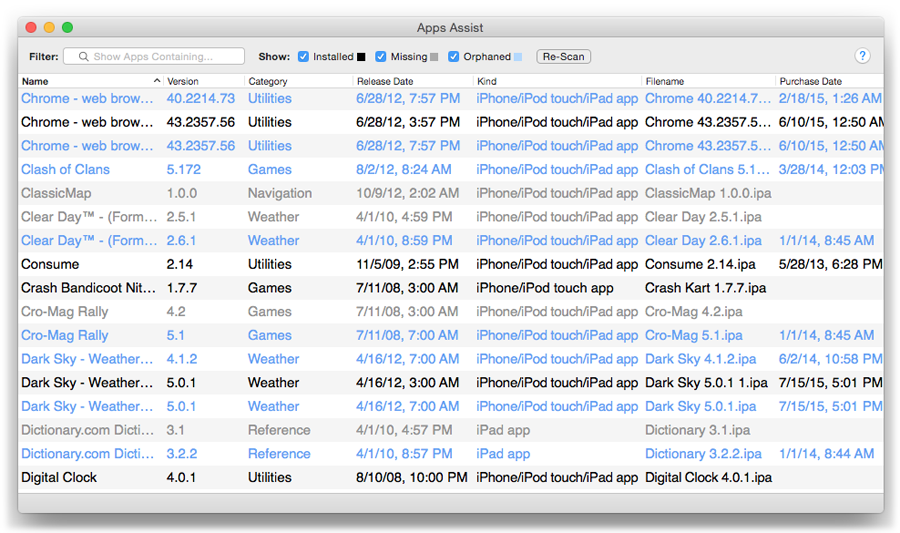 Black are installed, gray are missing, blue are just sitting in the Mobile Applications folder uninstalled and abandoned.
Features:
Lists installed, missing and orphaned iOS apps on your Mac
Displays Name, Version, Filename, Purchaser ID, Purchase Date, Release Date, and other pertinent metadata and properties.
Filter for specific apps
Column-sort by apps' properties
Double-click reveals the app's .ipa file in the Finder
Export the list as a tab-delimited text file
Trash selected orphaned .ipa files directly from the list (apps cannot be deleted from iTunes)
Familiar iTunes-like interface, ample shortcuts, update checking, in-app Help
Give Apps Assist a try with limited features for free....download it now. If you like it and use it, purchase a registration code for $1.99 to enable all features.
Updated in version 1.0.3 (current):
Security improvements
February 15, 2016
This version is a free upgrade for registered users.
System Requirements
Intel Macintosh computer running OS X 10.8 or later.
iTunes 12.2 or later
Gatekeeper Security: Apps Assist is signed with an authorized Developer ID
Purchase and Register
Download Apps Assist version 1.0.3 now.
The unregistered version of the Apps Assist application has limited functionality and will frequently remind you of this.
The registered version of Apps Assist costs $1.99. After your payment is received you will be sent a registration code and instructions to unlock Apps Assist's restrictions. You'll also enable me to continue working on feature updates for Apps Assist.

You can make safe and secure payments using your credit card. Just click the PayPal "Buy Now" button below, or make an in-app purchase.
Web mail users: There is a possibility that unsolicited email messages from me—such as the one containing your registration code—will be re-routed to your spam or junk mailbox. As soon as you receive the PayPal confirmation, check these mailboxes for the email containing your registration code. Otherwise, if you don't receive your code, let me know; it may take me a day or two to manually send you a code.
PayPal eCheck: Payments made by PayPal eCheck will take up to 5 business days to clear. (Your payment will be by eCheck if you do not have a credit card attached to your PayPal account or your PayPal account is "unverified".) As soon as your eCheck clears with PayPal your registration code will be emailed to you.
If you have any problems, ideas or suggestions, please email me.
My name is Doug Adams,
support at dougscripts dot com.
Currently, I can only accept payments electronically via PayPal. For other payment options, please email me at support at dougscripts dot com.
This application uses reasonable precautions to protect your data, but that is no guarantee against unforseen situations on your computer. I make no guarantees to this application's effectiveness on your computer and cannot take any responsibility if something goes wrong while using this application. If this makes you aprehensive then please be certain to backup your iTunes audio and video files before using.