Welcome!
Download hundreds (471 and counting) of AppleScripts for Apple's iTunes that will help make managing your digital music collection easier and more fun!
What's AppleScript?
AppleScript is a simple Macintosh-only programming language that can control and automate actions on your Mac. AppleScript is already available on your computer as part of the Mac OS and many popular applications can be automated using AppleScript scripts. Scripts written for iTunes can manage files and track information, create playlists, interact with other applications, perform innovative tasks, and handle many kinds of chores which otherwise would be repetitive, laborious, and/or time-consuming.
Cool! Where Do I Start?
Start browsing the site by using the scripts ↓ Menu link above. AppleScripts are gathered into these general Categories:
Or use the search box at the top of every page to try and find something specific.
Not sure how to install AppleScripts? Here's a Download/Installation FAQ & Video.
Check back often or follow me on Twitter @dougscripts or on Facebook, or subscribe to my RSS blog feed and 30 Most Recent Scripts RSS feed to stay notified about new and updated scripts and info.
Latest:
August 7 2017 - 9:19 am
I don't burn CDs much anymore these days. Sad! So when a Correspondent inquired if a script could be written to split up a very long playlist into CD-sized "sub-playlists", I fuzzily recalled (and Kirk confirmed) that iTunes will ask for additional blank CDs if a single CD is insufficient; such a script would be unnecessary.
But then I thought that there might be other reasons to split up a large playlist into smaller playlists. Say, for example, one wanted to limit the CD contents to only 60 minutes. Or, forget about burning CDs (which, I guess, I have), maybe smaller playlists would be convenient for one's listening regimen.
So I wrote the script anyway. It was a fun Sunday morning project yesterday.
Divvy Up A Playlist will copy the tracks of a selected user-created playlist in their Play Order to a series of new, smaller playlists each set to a maximum time length and each named with a user-supplied base name and number suffix incremented sequentially. Additionally, the new playlists can all be moved to a new Playlist Folder, like so: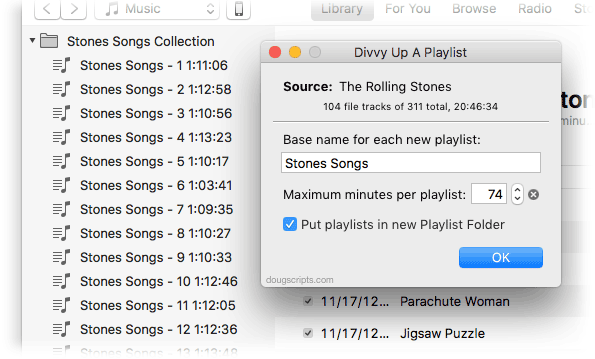 These particular playlists contain local file tracks as well as remote iCloud Music Library tracks, so I couldn't really burn CDs from them. But whenever I want to listen to my Rolling Stones collection in 74 minute chunks I'm all set (the script can create "sub-playlists" limited in size from 30 to 120 minutes; 74 minutes is the size of a typical CD).
Divvy Up A Playlist is for macOS 10.10 and later and free to use with a donation nag. More information and download is on this page.
[UPDATE; Many thanks to the first downloaders who reported a bug in v1.0. Quickly patched!]