Welcome!
Download hundreds (461 and counting) of AppleScripts for Apple's iTunes that will help make managing your digital music collection easier and more fun!
What's AppleScript?
AppleScript is a simple Macintosh-only programming language that can control and automate actions on your Mac. AppleScript is already available on your computer as part of the Mac OS and many popular applications can be automated using AppleScript scripts. Scripts written for iTunes can manage files and track information, create playlists, interact with other applications, perform innovative tasks, and handle many kinds of chores which otherwise would be repetitive, laborious, and/or time-consuming.
Cool! Where Do I Start?
Start browsing the site by using the scripts ↓ Menu link above. AppleScripts are gathered into these general Categories:
Or use the search box at the top of every page to try and find something specific.
Not sure how to install AppleScripts? Here's a Download/Installation FAQ & Video.
Check back often or follow me on Twitter @dougscripts or on Facebook, or subscribe to my RSS blog feed and 30 Most Recent Scripts RSS feed to stay notified about new and updated scripts and info.
Latest:
August 12 2016 - 5:50 pm
In case you hadn't heard, the latest beta of iTunes 12.5 (available to Developers and Sierra Public Beta participants) has added Work, Movement Name, and Movement Number/Count tags for music tracks (well, all tracks have these tags, but iTunes' contextual UI may keep them from showing up in contexts other than Music.). When the Work and Movement tags of a track are used, iTunes constructs a new display Song Name for the track using the Work, Movement Number and Movement Name tags. iTunes even converts the Movement Numbers into Roman numerals for the aggregated name. The original Song Name is still available, it just mostly isn't visible. (Kirk and I talk a little about these changes in Episode #13 of The Next Track podcast.)
You may want to edit your track tags to take advantage of these new Work and Movement tags. What I found was that most of what I wanted to use in those tags was already in the Song Name (eg: "Brandenburg Concerto No. 1 in F, BWV 1046: I. Allegro"), but the Get Info panel won't display the Song Name field together with the Work and Movement fields in order to copy some text from the former to one of the latter. I want to be able to copy "Brandenburg Concerto No. 1 in F, BWV 1046" to the Work tag and "Allegro" to the Movement tag. But the Song Name isn't visible.
So I wrote a script that grabs the text of the Song Name and displays it in a text field; the text can be edited however required and when the "OK" button is clicked, that text will be copied to the Movement Name.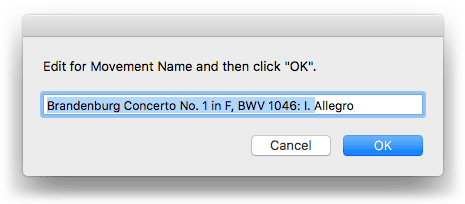 (I'd be deleting the highlighted text.) This has to be done one track at a time; there's really no easy way to automate the selection of text since conventions vary about that sort of thing. So, you have to do some of the work. A keyboard shortcut really helps here.
A second script works similarly for the Work Name tag, except you can choose more than one track at a time (the first selected track's Song Name is used) to which to apply the edited text. It will also increment each selected track's Movement Number/Count starting with 1 based on the tracks' Play Order.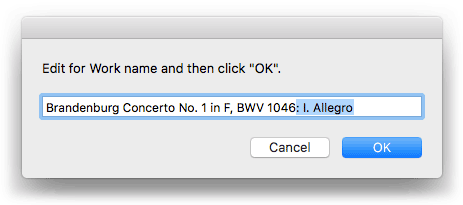 In this case, I'd have selected the four tracks comprising the movements of this Work, deleted the highlighted text, and then pressed OK. Make sure the selected tracks are sorted by Play Order (this should be done in Songs or Playlist View, ideally) so that the Movement Number increments for each track correctly.
Just to be clear, the original Song Name remains as is. It's just that, when the Work and Movement tags are used, you'll rarely see it. In most contexts, you'll only ever see the aggregated Work-Movement Number-Movement name.
Here are the scripts: