Welcome!
Download hundreds (459 and counting) of AppleScripts for Apple's iTunes that will help make managing your digital music collection easier and more fun!
Popular Now
What's AppleScript?
AppleScript is a simple Macintosh-only programming language that can control and automate actions on your Mac. AppleScript is already available on your computer as part of the Mac OS and many popular applications can be automated using AppleScript scripts. Scripts written for iTunes can manage files and track information, create playlists, interact with other applications, perform innovative tasks, and handle many kinds of chores which otherwise would be repetitive, laborious, and/or time-consuming.
Cool! Where Do I Start?
Start browsing the site by using the scripts ↓ Menu link above. AppleScripts are gathered into these general Categories:
Or use the search box at the top of every page to try and find something specific.
Not sure how to install AppleScripts? Here's the Download/Installation FAQ & Video.
Check back often or subscribe to my Twitter feed @dougscripts, my RSS blog feed and 30 Most Recent Scripts RSS to stay notified about new and updated scripts and info.
Latest:
December 12 2014 - 7:03 am
iTunes knows some stuff about your tracks but won't let you see it other than via the Get Info panel because there are no columns in the browser window to accommodate it. We can fix that.
Sundry Info To Comments v4.0 can copy your single choice of filename, file path (location), file's parent folder path, file creation date (YYYY-MM-DD HH:MM:SS), current playlist, volume adjustment, start time or stop time (HH:MM.SS), artwork size (WxH), purchaser name or purchaser account ID to choice of Category, Comments, Description or Episode ID tag of each selected track. By putting data in one of these available tags it can be visible and sortable or used with Smart Playlist criteria.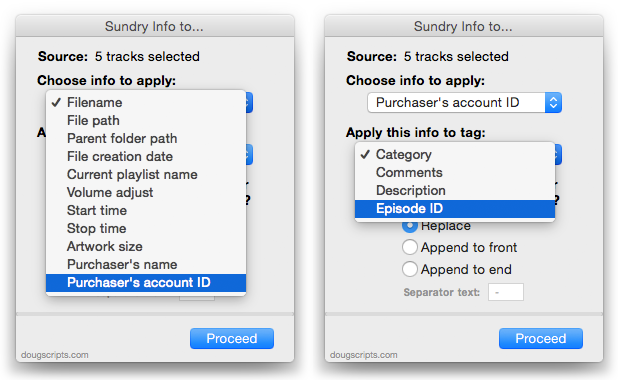 Setting up to copy the Apple ID to the Episode ID tag of the track selection.
This latest version adds the track's start time, stop time and artwork size as info to apply; adds the Episode ID tag as a potential target tag; adds user-enterable separator-text field when appending to extant tag text; now stays active and frontmost until Quit; has minor compatibility adjustments for OS X 10.10.
Sundry Info To Comments is for OS X 10.8 and later and is free to use full-featured for ten day, $1.99 thereafter. More info and download is here.