Welcome!
Download hundreds (455 and counting) of AppleScripts for Apple's iTunes that will help make managing your digital music collection easier and more fun!
What's AppleScript?
AppleScript is a simple Macintosh-only programming language that can control and automate actions on your Mac. AppleScript is already available on your computer as part of the Mac OS and many popular applications can be automated using AppleScript scripts. Scripts written for iTunes can manage files and track information, create playlists, interact with other applications, perform innovative tasks, and handle many kinds of chores which otherwise would be repetitive, laborious, and/or time-consuming.
Cool! Where Do I Start?
Start browsing the site by using the scripts ↓ Menu link above. AppleScripts are gathered into these general Categories:
Or use the search box at the top of every page to try and find something specific.
Not sure how to install AppleScripts? Here's a Download/Installation FAQ & Video.
Check back often or subscribe to my Twitter feed @dougscripts, my RSS blog feed and 30 Most Recent Scripts RSS to stay notified about new and updated scripts and info.
Latest:
September 4 2015 - 9:09 am
Join Together will create and export a single AAC or ALAC audio file from the audio data of tracks dragged from iTunes or files dragged from the Finder.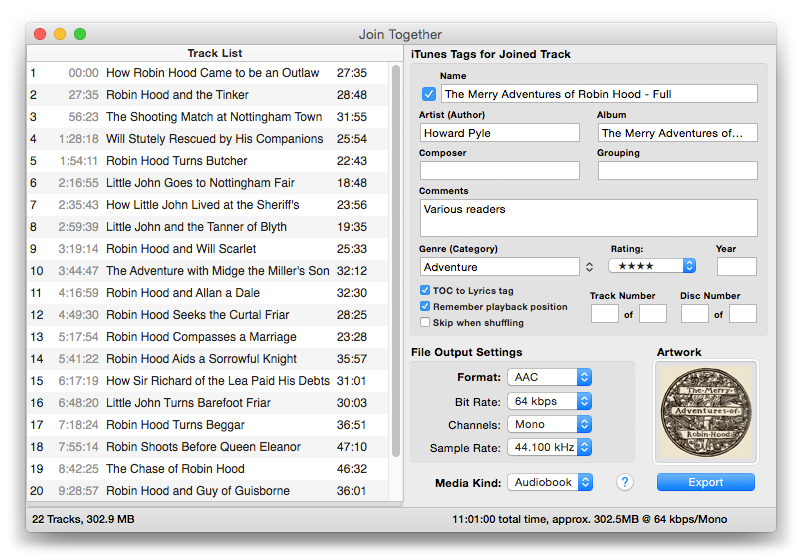 Join Together features:
Create a single audio file from two or more files drag-and-dropped from iTunes or the Finder
Export final file as AAC or ALAC (Apple Lossless) and automatically add to iTunes as a Music or Audiobook track
Join Together handles all audio processing; QuickTime or other third-party apps aren't required
Non-destructive—source files are left intact
Flexible export options
Easily supply tags, artwork and playback options for the final file
Arrange, Get Info and audition tracks in the Track List
Save names and timing of source tracks as table-of-contents to Lyrics tag of final file
Built-in and online help
This latest version provides a button to reset the AAC export settings to 128kbps stereo @ 44.100 mHz for convenience; provides UI compatibility fixes between older and newer OS X operating systems; additional compatibility support for iTunes 12.2 and later; maintenance fixes and performance enhancements.
Join Together is free to try in Demo Mode during which all of its features are available. However, in Demo Mode the volume-level of the exported file will be sharply reduced after a few minutes and through the duration of the file. A registration code which will unlock the volume restriction is $5.00. This is a free update for registered users.