Welcome!
Download hundreds (461 and counting) of AppleScripts for Apple's iTunes that will help make managing your digital music collection easier and more fun!
What's AppleScript?
AppleScript is a simple Macintosh-only programming language that can control and automate actions on your Mac. AppleScript is already available on your computer as part of the Mac OS and many popular applications can be automated using AppleScript scripts. Scripts written for iTunes can manage files and track information, create playlists, interact with other applications, perform innovative tasks, and handle many kinds of chores which otherwise would be repetitive, laborious, and/or time-consuming.
Cool! Where Do I Start?
Start browsing the site by using the scripts ↓ Menu link above. AppleScripts are gathered into these general Categories:
Or use the search box at the top of every page to try and find something specific.
Not sure how to install AppleScripts? Here's a Download/Installation FAQ & Video.
Check back often or follow me on Twitter @dougscripts or on Facebook, or subscribe to my RSS blog feed and 30 Most Recent Scripts RSS feed to stay notified about new and updated scripts and info.
Latest:
August 15 2016 - 12:02 pm
One of the neat things that Apple added to iTunes not so long ago is the user-editable description that is available for regular Playlists (Smart, Folder, Genius and Master library playlists do not have this option) and is visible when the Playlist is in Playlist View. You can edit this description by clicking the Playlist's "Edit Playlist" button. But when you do this, the iTunes interface changes: a column appears at the right edge of iTunes listing the current tracks in the playlist to which you can drag tracks. It also will change the (now center column) browser window to display the full Music library, which totally discombobulates me.
I do not always care for this when I just want to edit the Playlist's description. I'd prefer to do so without shaking up the interface. This script will do it:
tell application "iTunes"
try
set thisPlaylist to (get view of front browser window)
tell thisPlaylist
if special kind is not none or smart or genius or shared then error
end tell
on error
beep
return
end try
set defaultAnswer to (get thisPlaylist's description)
if defaultAnswer is missing value then set defaultAnswer to ""
set newDescription to text returned of ¬
(display dialog "Enter the description text for the playlist" & return ¬
& thisPlaylist's name default answer defaultAnswer)
try
set thisPlaylist's description to newDescription
end try
end tell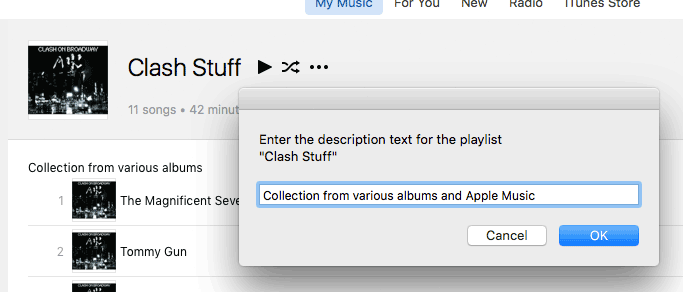 Save this named whatever you like to your [home]/Library/iTunes/Scripts/ folder so that it will appear in the iTunes Script menu. Select a playlist and launch the script by selecting it from the Script menu. It will quit if the selected playlist is the wrong kind. It will display the current description for the playlist if it exists, otherwise the text field will be blank. Enter up to 255 characters, which is the most that the description can accept, and then click "OK".
Give this a keyboard shortcut to maximize your quality of life.