Welcome!
Download hundreds (455 and counting) of AppleScripts for Apple's iTunes that will help make managing your digital music collection easier and more fun!
What's AppleScript?
AppleScript is a simple Macintosh-only programming language that can control and automate actions on your Mac. AppleScript is already available on your computer as part of the Mac OS and many popular applications can be automated using AppleScript scripts. Scripts written for iTunes can manage files and track information, create playlists, interact with other applications, perform innovative tasks, and handle many kinds of chores which otherwise would be repetitive, laborious, and/or time-consuming.
Cool! Where Do I Start?
Start browsing the site by using the scripts ↓ Menu link above. AppleScripts are gathered into these general Categories:
Or use the search box at the top of every page to try and find something specific.
Not sure how to install AppleScripts? Here's a Download/Installation FAQ & Video.
Check back often or subscribe to my Twitter feed @dougscripts, my RSS blog feed and 30 Most Recent Scripts RSS to stay notified about new and updated scripts and info.
Latest:
October 2 2015 - 4:01 pm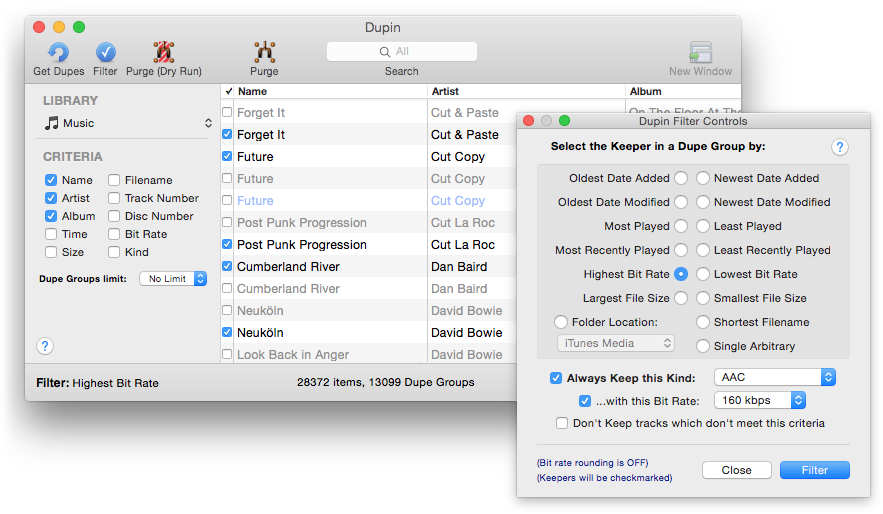 With Dupin you can:
Very quickly find all sets of duplicate iTunes tracks based on your choice of criteria
Select the "Keeper" tracks from among a number of duplicates automatically using a variety of versatile filtering options
Consolidate the play, skip, and ratings information from all tracks in a Dupe Group to the single "Keeper" track
Re-populate iTunes playlists replacing "non-Keeper" tracks with "Keeper" tracks
Remove duplicate tracks from iTunes and send files to the Trash
Audition tracks with QuickLook
Manage intentionally duplicated tracks
Delete duplicate "dead" tracks
View duplicates in non-loaded libraries created with iTunes' multiple library feature
Sort tracks and view track info
Export a list of duplicates to a text file
Locate tracks in the Finder and in iTunes
In addition, Dupin features:
Compatibility with iCloud Music Library/Apple Music
Support for Notifications
Familiar iTunes-like interface
Robust Documentation via the Help Menu
Ample keyboard shortcuts
Customizable toolbars
Optional update checking
This latest version is a maintenance release with performance enhancements and is a free update for registered users.
Dupin is easy to configure and use. Get the well-featured demo and try it out for yourself now.