Welcome!
Download hundreds (455 and counting) of AppleScripts for Apple's iTunes that will help make managing your digital music collection easier and more fun!
Popular Now
What's AppleScript?
AppleScript is a simple Macintosh-only programming language that can control and automate actions on your Mac. AppleScript is already available on your computer as part of the Mac OS and many popular applications can be automated using AppleScript scripts. Scripts written for iTunes can manage files and track information, create playlists, interact with other applications, perform innovative tasks, and handle many kinds of chores which otherwise would be repetitive, laborious, and/or time-consuming.
Cool! Where Do I Start?
Start browsing the site by using the scripts ↓ Menu link above. AppleScripts are gathered into these general Categories:
Or use the search box at the top of every page to try and find something specific.
Not sure how to install AppleScripts? Here's the Download/Installation FAQ & Video.
Check back often or subscribe to my Twitter feed @dougscripts, my RSS blog feed and 30 Most Recent Scripts RSS to stay notified about new and updated scripts and info.
Latest:
March 28 2015 - 10:54 am
Ripping CDs and converting audio files with iTunes isn't something a lot of people do anymore. Ahh, to be free of the slow, ear-stabbing torture of the done-chime that sounds after every import or conversion.
Boodely-oop!
Sure, you could lower the volume on your machine everytime that boodely-oop! drives another nail into your brain. Or you could replace the done-chime to some other sound or silence! with I Hate That iTunes Done Chime!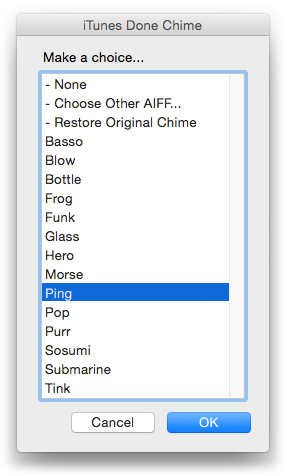 This applet will allow you to replace iTunes' Tri-Tone done chime ("The Hellmouth's Doorbell") with a System sound, a user-chosen AIFF file, or no sound (actually, a sound file provided that is just one second of silence).
This script hadn't been updated since 2009, during which time the additional security and permission considerations of the OS prevented it from working. The script now asks for permisson before it moves any files around.
Dev ID signed and free to use, more information and download is here.