Managing Tracks
October 6 2020 - 1:30 pm
For macOS 10.15 and later only. This applet will scan the Music app for tracks that are not assigned to any user-created playlists and display them. The registered version includes options to export the list as a text file and copy selected tracks to a new or existing playlist.
This app is free to try in Demo Mode. In Demo Mode, several convenient features will be disabled. If you like it you can purchase a code for $2.99 which will unlock the Demo Mode restrictions. Launch the app and click "Register…" in the its File menu to make an in-app purchase.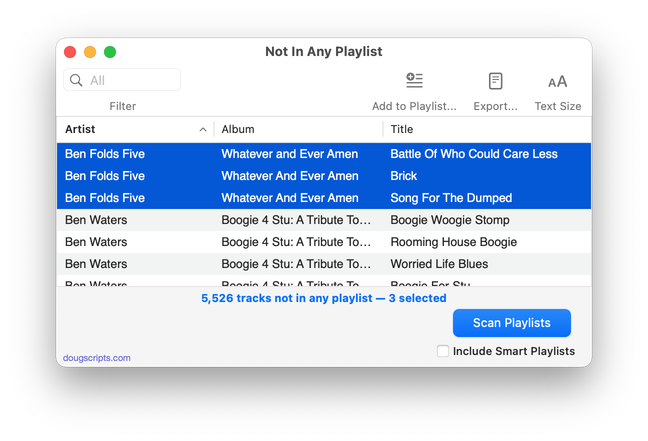 Latest version:
Accommodations for macOS 11 Big Sur
Slight change in logistics
Removes 10-day trial; unregistered versions operate in feature-limited Demo Mode
Performance, UI and security enhancements
More information for Not In Any Playlist v3.0 and download link is here.