Welcome!
Download hundreds (482 and counting) of AppleScripts for Apple's iTunes that will help make managing your digital music collection easier and more fun!
What's AppleScript?
AppleScript is a simple Macintosh-only programming language that can control and automate actions on your Mac. AppleScript is already available on your computer as part of the Mac OS and many popular applications can be automated using AppleScript scripts. Scripts written for iTunes can manage files and track information, create playlists, interact with other applications, perform innovative tasks, and handle many kinds of chores which otherwise would be repetitive, laborious, and/or time-consuming.
Cool! Where Do I Start?
Start browsing the site by using the scripts ↓ Menu link above. AppleScripts are gathered into these general Categories:
Or use the search box at the top of every page to try and find something specific.
Not sure how to install AppleScripts? Here's a Download/Installation FAQ & Video.
Check back often or follow me on Twitter @dougscripts, my YouTube channel or on Facebook, or subscribe to my RSS blog feed and 30 Most Recent Scripts RSS feed to stay notified about new and updated scripts and info.
Latest:
May 1 2019 - 9:30 am
Over the past few months—I want to say since Mojave's release last year—I have gotten a few reports from users of my artwork scripts regarding a bizarre corruption issue when applying artwork to some types of MP3s.
Essentially, when artwork is applied to the MP3, its file "echoes" the last few seconds of audio data which increases the size of the file. Here is a screenshot sent to me by Correspondent Brandon Pfeiffer, showing the phenomenon in an audio editor (I think it's Fission; no matter, really):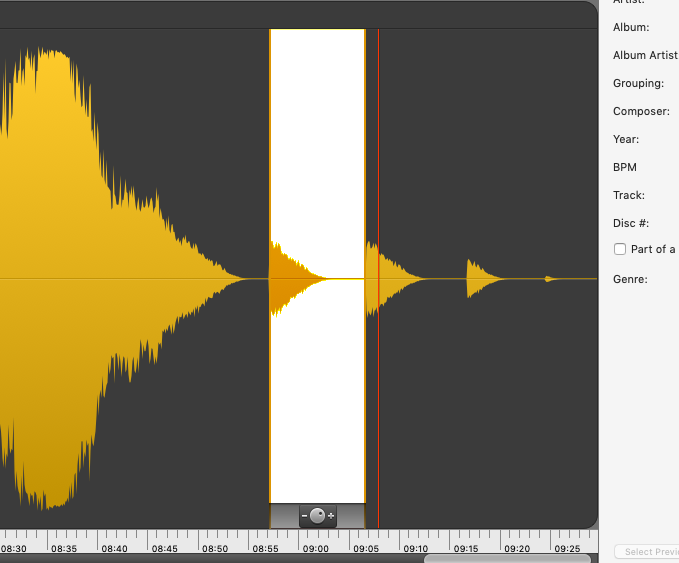 Each "echo" represents a single attempt to add artwork. The new size is reflected in the Size and Time for the file in iTunes as well.
I have not been able to replicate this myself so it has been very difficult to figure out what's going on. However, Brandon did some experimenting and discovered some details. First, it's probably not an issue with the AppleScripts, since Brandon was also able to see this issue when he "manually" applied artwork via a track's Info panel.
Some other observations:
The source of the MP3s did not seem to make a difference (home rips, Amazon downloads, etcetera)
The image file being applied may be a factor, its size, type, and so on. However, Brandon could not find a consistent factor in this regard.
Changing the ID3 version in iTunes had no effect.
Re-converting a corrupted MP3 to MP3 in iTunes restored the file to its un-corrupted length. (Subsequently adding artwork to such a file, however, eventually corrupted it again.)
The new file encoded by iTunes did not appear to have the issue at first (the song duration did not change); however, closer inspection using an audio editor (or even just playing via QuickLook in Finder) revealed that the duration had in fact changed, but was yet to be reflected in iTunes.
Re-encoding the corrupted file using FFmpeg produced several of the following errors: "Header missing – Error while decoding stream #0:0: Invalid data found when processing input"
Re-encoding the original downloaded source MP3 using FFmpeg did not produce any errors.
Sure beats me. I'll have more follow-up as it develops.
[Update: Several Correspondents have emailed to confirm that they have seen this behavior after manually editing artwork; AppleScript was not a factor.]