Welcome!
Download hundreds (571 and counting) of AppleScripts for Apple's Media Apps that will help make managing your digital music and video collection easier and more fun!
What's AppleScript?
AppleScript is a simple Macintosh-only programming language that can control and automate actions on your Mac. AppleScript is already available on your computer as part of the macOS and many popular applications can be automated using AppleScript scripts. Scripts written for Apple's Music, TV and iTunes apps can manage files and track information, create playlists, interact with other applications, perform innovative tasks, and handle many kinds of chores with accuracy and precision which otherwise would be repetitive, laborious, and/or time-consuming.
Cool! Where Do I Start?
Start browsing the site by using the scripts ↓ Menu link above. AppleScripts are gathered into these general Categories:
Or use the search box at the top of every page to try and find something specific.
Not sure how to install AppleScripts? Here's a Download/Installation FAQ.
Check back often or follow me on Twitter @dougscripts, my YouTube channel, or subscribe to my RSS blog feed and 30 Most Recent Scripts RSS feed to stay notified about new and updated scripts and info.
January 7 2020 - 10:27 am
I have to admit, it's hard to keep in mind what tags from iTunes are still available for which media in the Music and TV apps.
Case in point: the track number tag. A Track Number is the index of a track in its album play order. Every school child knows that (well, every school child familiar with "album"). Strictly speaking, it is a music-related tag. But because iTunes handled music and video tracks, ALL tracks had a track number tag.
The TV app apparently does not care to have much truck with the Track Number tag; it does not appear in a track's Show Info panel. But it can appear as a column in List View. And it is still accessible by AppleScript.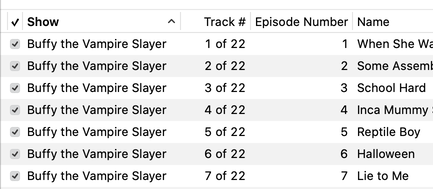 I heard from a Correspondent who was concerned about his pristine TV Show track numbering largely being obscured by the TV app. I suppose you could: 1) Put the list of TV Shows in List View, 2) Show the Track Number column and 3) Command-I each track and manually enter the Track Number into the episode field.
Or, run this script on a selection of TV tracks to copy the track number to the episode number: