Welcome!
Download hundreds (477 and counting) of AppleScripts for Apple's iTunes that will help make managing your digital music collection easier and more fun!
What's AppleScript?
AppleScript is a simple Macintosh-only programming language that can control and automate actions on your Mac. AppleScript is already available on your computer as part of the Mac OS and many popular applications can be automated using AppleScript scripts. Scripts written for iTunes can manage files and track information, create playlists, interact with other applications, perform innovative tasks, and handle many kinds of chores which otherwise would be repetitive, laborious, and/or time-consuming.
Cool! Where Do I Start?
Start browsing the site by using the scripts ↓ Menu link above. AppleScripts are gathered into these general Categories:
Or use the search box at the top of every page to try and find something specific.
Not sure how to install AppleScripts? Here's a Download/Installation FAQ & Video.
Check back often or follow me on Twitter @dougscripts or on Facebook, or subscribe to my RSS blog feed and 30 Most Recent Scripts RSS feed to stay notified about new and updated scripts and info.
Latest:
April 23 2018 - 11:55 am
Back in the day, LP record albums were experienced as pairs of "sides", right?
A decent record side was about 22 to 27 minutes long. And so we got used to listening to chunks of music of this duration. These time constraints on a record would often affect how the album was programmed, such as the song order and perhaps other conceptual factors.
If you spent a lot of time listening to record albums this way, you may remember the convention of "flipping the record" after the first side was finished in order to hear the other side. It only took a few moments to do so, but this pause in the action is the sort of thing you don't experience much with CDs and virtually never with hours-long playlists.
I wondered what it would be like now to experience some of my classic digitized albums with a deliberate pause between the last song of one side and the first song of the next side. So, here's Side Splitter.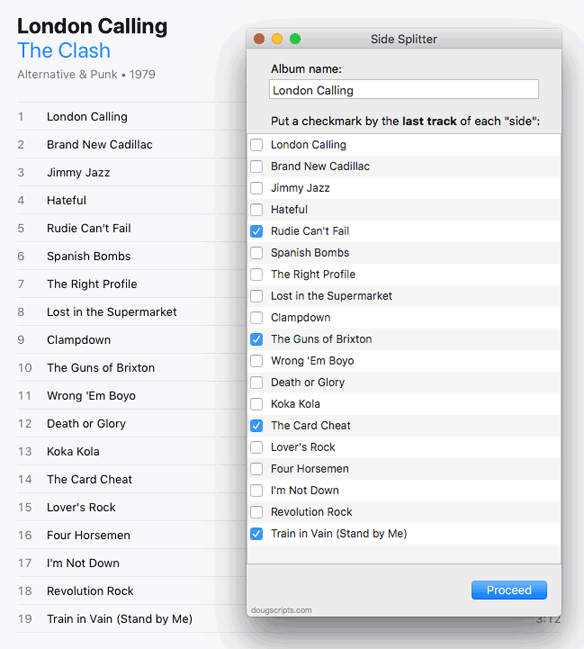 It will copy a selection of tracks into separate user-designated "album side" playlists (by placing a checkmark next to the last song of a "side") and then offer to auto-play them; when a "side" playlist stops, the script will offer to play the next "side" playlist, which you acknowledge by clicking an "OK" button the script shows in a dialog. When the entire album has played this way, the script will offer to delete the playlists.
It actually brings back that feeling of playing individual record sides.
Side Splitter is free to use with a donation nag. More info and download is on this page.