Welcome!
Download hundreds (473 and counting) of AppleScripts for Apple's iTunes that will help make managing your digital music collection easier and more fun!
What's AppleScript?
AppleScript is a simple Macintosh-only programming language that can control and automate actions on your Mac. AppleScript is already available on your computer as part of the Mac OS and many popular applications can be automated using AppleScript scripts. Scripts written for iTunes can manage files and track information, create playlists, interact with other applications, perform innovative tasks, and handle many kinds of chores which otherwise would be repetitive, laborious, and/or time-consuming.
Cool! Where Do I Start?
Start browsing the site by using the scripts ↓ Menu link above. AppleScripts are gathered into these general Categories:
Or use the search box at the top of every page to try and find something specific.
Not sure how to install AppleScripts? Here's a Download/Installation FAQ & Video.
Check back often or follow me on Twitter @dougscripts or on Facebook, or subscribe to my RSS blog feed and 30 Most Recent Scripts RSS feed to stay notified about new and updated scripts and info.
Latest:
September 16 2017 - 11:26 am
If you perform a clean install of the operating system, an "iTunes" folder will not be created in the user "Library" folder nor the local "Library" folder (the one at the top level of the startup disk). This has been the case since at least macOS 10.12.2.
Do not confuse this "iTunes" folder with the one created in "Music", which stores iTunes support files. The "iTunes" folder in the "Library" folder originally contained an "iTunes Plug-Ins" folder as well as the "Scripts" folder. Apple no longer allows third-party visualizer plug-ins (I believe; although the built-in visualizers still work), so the plug-ins folder is apparently unnecessary. But the "Scripts" folder is still checked by iTunes for AppleScript files to display in its Script menu.
Thus, you may have to create these folders yourself. (But only after a clean install. If these folders already exist and you simply update your OS or transfer from a backup post-install then the folders will remain or be restored.) Below are listed the pertinent file paths, with the folders you may need to create emphasized:
For all users of the machine: [startup disk]/Library/iTunes/Scripts/
For a single user: [startup disk]/Users/[user name]/Library/iTunes/Scripts/
(The user Library folder is hidden by default, but most nerds I know immediately make it visible: Select your home folder and open it in a Finder window. Click View > Show View Options in the Finder Menu or press Command-J. At the bottom of the View Options panel, check-mark the "Show Library Folder" checkbox.)
Additionally, you can assign keyboard shortcuts to scripts that appear in the iTunes Script menu.
Don't forget that the system-wide Script menu, which appears on the right side of the Menu Bar, can also be configured to display scripts that are associated with any frontmost application. Thus, when iTunes is frontmost it can display the appropriate iTunes AppleScripts: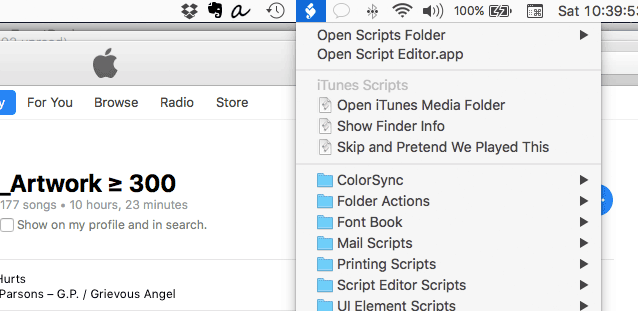 Folders for the system-wide Script menu must be set up like so:
For all users of the machine: [startup disk]/Library/Scripts/Applications/iTunes/
For a single user: [startup disk]/Users/[user name]/Library/Scripts/Applications/iTunes/
You can create AppleScripts for many other Apple and third-party applications and place them here as long as the final folder name matches the name of the application (Photos, MarsEdit, Safari, and so on).
Now, there are essentially two kinds of scripts, compiled scripts and application scripts. Compiled scripts have this icon:
…and application scripts (or applets) have this icon:

Compiled scripts can only be launched from the Script menu (or other third-party launcher). And while applets can be conveniently launched from the Script menu, they can just as well be launched from any location in the Finder by double-clicking them. Sometimes it may be easier to launch an applet from an easy-to-access folder or from the Finder's Toolbar rather than from one of the Script menu locations.