Music app
July 4 2019 - 8:01 am
It may be somewhat ironically serendipitous (or serendipitously ironic) that CD Text to CD Info v5.0 happens to be the first script I've posted specifically for the new Music app. Afterall, ripping audio from a CD seems quaint in the current age of streaming. But facetious jibes like "What's a CD? LOL!" aside, there are still plenty of CDs in the world that haven't been ripped yet and plenty of people who want to do the ripping. Thankfully, Apple has preserved this ability in the Music app.
CD Text to CD Info v5.0 will examine the selected CD mounted in Music for CD-Text and apply the album and track information to the CDs tracks. In this screenshot of the script's main window, all of the information (except disc number/count and year, which I entered manually) is from the CD's CD Text: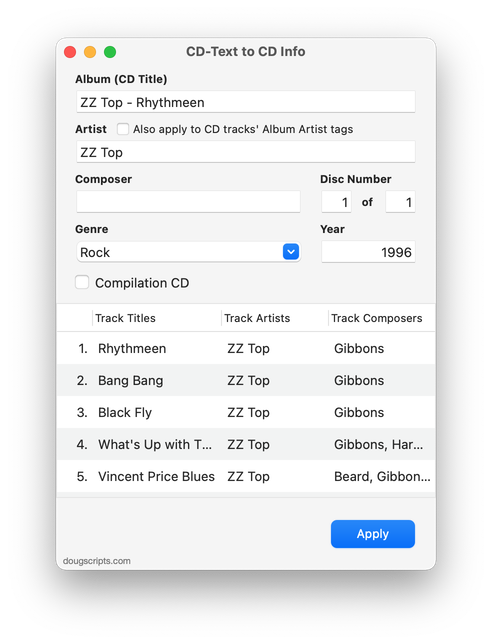 This is from a CD that I burned years ago in iTunes, which allowed me to include CD Text. Not all CDs contain CD Text, but many do. It would have solved a lot of metadata confusion if the music industry had insisted that CD Text be a mandatory Red Book standard from Day 1, but That's The Way It Went.
As I mentioned at the top, CD Text to CD Info v5.0 will only run on macOS 10.15 Catalina with the Music app, which are both currently in beta (the version that works with iTunes is still available here).
June 4 2019 - 10:53 am
Apple debuted Music.app and Apple TV.app at WWDC yesterday. The macOS 10.15 Developer Beta was released and I've installed it. All in all, I'd say things are looking good for scripting the media apps in macOS 10.15.
There is no iTunes.app in Catalina. Surprisingly! I thought Apple would keep a "legacy" iTunes around, in the same way QuickTime Player 7 and Aperture were allowed to languish. But I'm guessing the new new media apps work well enough that such a strategy was deemed unnecessary.
Music and Apple TV have AppleScript support. Podcasts app does not.
Current iTunes scripts will not work with Music.app or AppleTV.app. At least, not without some slight modifications. Music.app's scripting definitions file is virtually the same as iTunes (likewise the Apple TV.app). So scripts that target application "iTunes" will need to target application "Music" or "Apple TV". There may be other changes necessary.
The Music.app Script Menu Lives! Simply create the "Music/Scripts/" folders in the Library folder, put at least one script in it and the Script menu will appear in Music.app. I haven't tried this with the Apple TV app, but I'm betting it works the same.
There doesn't appear to be an automatically updated "iTunes Library.xml" file. Holding out hope this will be available in a later version (or perhaps I'll stumble over something). This XML file is used by third-party apps to quickly get information about the library. XML files can be user-exported but not having an automatically updated XML is inconvenient. This was being phased out anyway. I haven't tested the iTunesLibrary/ITLibrary framework under Catalina yet which may be a workaround.
No Column Browser (sad).
If you are a rabid iTunes user and are chomping at the bit to try Music.app: TAKE THAT BIT OUT OF YOUR MOUTH! I would not recommend using the Developer or Public Betas on a main machine "just to see". You will not be able to go back without enormous difficulty. If you must install a beta, use a separate partition or virtual machine. Otherwise, wait until the official release.
I will try and update some scripts and apps for Music.app in the coming days and weeks. My Summer is going to be quite busy!