April 2011
April 20 2011 - 8:13 am
WikiScoop is an app that allows you to browse Wikipedia using an index made up of the Artists in your iTunes library.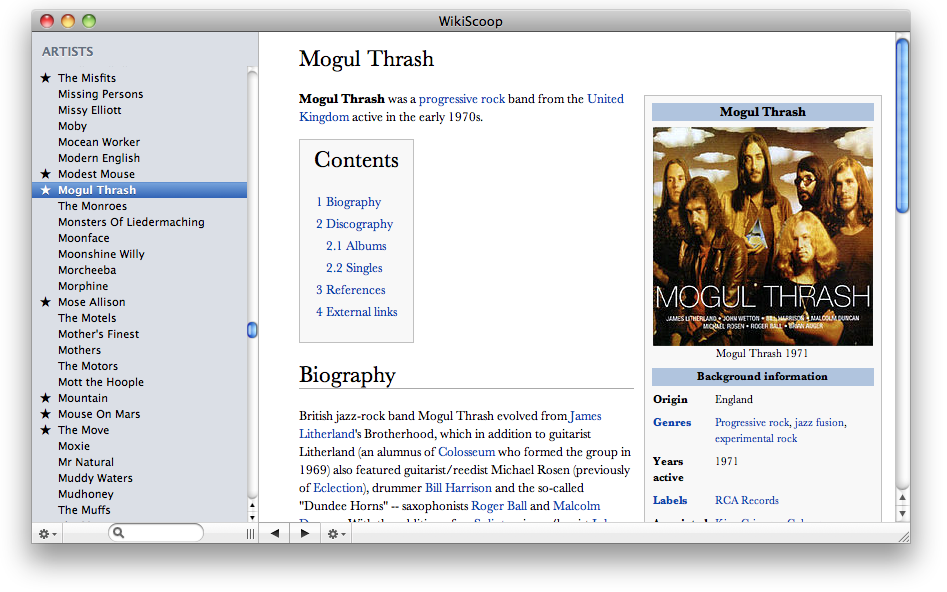 After finding an article for an Artist, you can bookmark that article to the Artist for faster retrieval later or offline reading. Additionally, you can set which Wikipedia language site to browse (currently English, French, German, Spanish, Italian, Dutch, Polish, Portuguese, and Russian).
WikiScoop is available exclusively from the Mac App Store for $4.99.
April 18 2011 - 6:20 pm
iTunes 10.2.2 fixes a few problems with iOS syncing and has some obligatory stability and performance enhancements. Download it directly or hit up Software Update.
April 9 2011 - 10:31 am
I released Dupin v2.2.5 last night. This update improves Dupe Group parsing when "fuzzy" Time criteria is in effect and corrects an unusual playlist sorting issue when two or more same-named regular playlists share the same name as two or more Smart playlists. This is a free update for registered users of Dupin v2.x.