iTunes
August 10 2020 - 5:33 pm
For macOS 10.15 and later only. This applet will copy specific tag data from one set of selected tracks to a second set of selected tracks. You can copy any combination of Checkmark, Song Title, Artist, Album Artist, Album, Genre, Year, Disc and Track, Composer, Grouping, Work, Movement, BPM, Comments, Lyrics, Rating, Loved/Disliked, Plays/Skips, Artwork and Compilation.
Only tracks in the local Media library are accessible. Tracks in the Apple Music interface are inaccessible.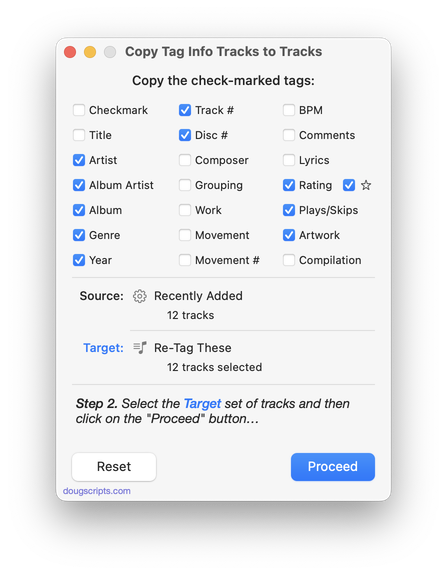 Latest version:
Accommodations for macOS 11 Big Sur
Performance, UI and security enhancements
More information for Copy Tag Info Tracks to Tracks v6.3 and download link is here.