February 2011
February 25 2011 - 9:25 am
iTunes has had the Crossfade feature for a while, whereby consecutive songs will overlap for a few seconds at end-to-beginning. But what if you want the opposite effect: a set amount of silence between each song? But you can't set a negative Crossfade. A Space Between is an AppleScript applet that will wait a user-set number of seconds between plays of consecutive tracks in a playlist. Just select a playlist, or a track in a playlist, launch the applet, and enter a number of seconds.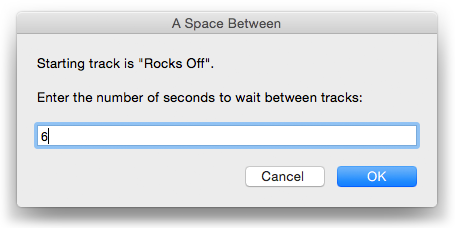 The tracks will play, pausing for the entered number of seconds between each track.
February 15 2011 - 8:54 pm
February 15th is the anniversary date of this site and this year makes ten anniversaries. Wow, huh? Actually, I had some stuff up slightly earlier than that, but I can't Wayback much of it and the original files are probably on a Zip disc or something. Closet > Back of Closet > Milk Crate > Shoebox > Zip Discs. Like I'm going back there to even look, right?
Thanks for visiting and making it a lot of fun. I use iTunes with AppleScripts everyday and can't believe how geeked-out I still am about it.
February 10 2011 - 8:55 pm
I've updated Spins to v1.0.3. Spins examines your iTunes library and displays stats about your most played tracks. Left to right, its "Breakouts" window, main window displaying one of four panels, and "Live Spins" floating display: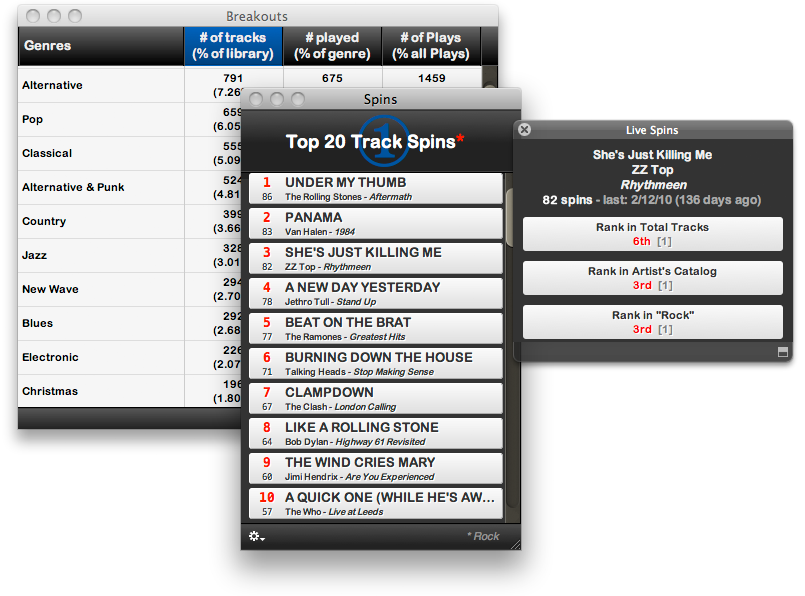 This latest version fixes an issue configuring hours for display, changes how the total tracks of the same rank are displayed in the Live Spins window, and makes some enhancements for stability. Spins is $10 shareware but the un-registered demo is free to use with limited features. Version 1.0.3 is a free update for registered users.