Books
April 19 2020 - 1:40 pm
You may be aware, or vaguely remember, that iTunes was able to manage PDF files. Sounds weird, I know. But early on, the iTunes Store provided extra album content as PDFs, so-called "digital booklets". Digital booklets went away but iTunes, and now the Music app, still support PDFs.
I got into a right regular habit of saving PDFs to iTunes. It was easy to categorize the plethora of them using the track tags that iTunes provided as a matter of course for all track entries. I've got instruction manuals, interesting news articles, notes, Wikipedia articles, VO scripts, email conversations, all kinds of stuff. When The Great Breakup happened, my PDFs were automatically moved to the Books app. That's fine, but Books doesn't allow tag editing, isn't AppleScriptable, and so on. I automatically assumed that PDF support was gone from Music, but it didn't occur to me until last week to even check.
I had created and maintained a set of scripts for managing PDFs in iTunes called PDF Adder. But the only script I regularly used from this collection was a PDF Service workflow that was accessible from the Print Dialog in any app. And so I've updated it for use with the Music app and the Books app.
Add PDF to Music or Books is an applet that must be installed in the [home]/Library/PDF Services/ folder. Once installed, it will appear as an option in the Print Dialog's PDF popup: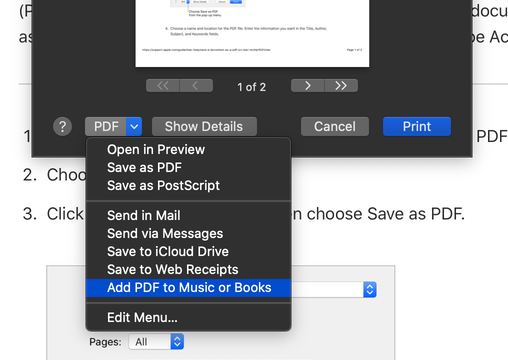 When selected, this panel will open and tag information can be added: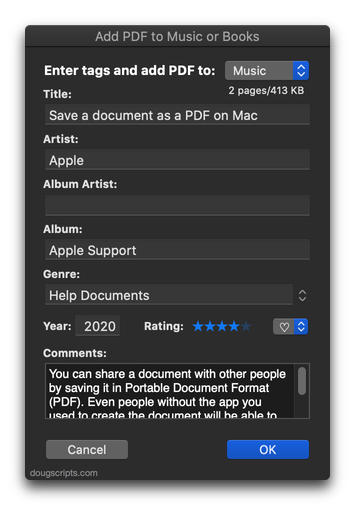 In this example, I've selected the Music app to receive the PDF. If Books had been selected, only the Title, Artist (Author) and Genre (Category) fields would be available since the Books app does not support the other tags.
More information and download for Add PDF to Music or Books is available on this page.