Daypart
August 27 2014 - 10:49 am
Daypart v2.4.0 can schedule sets of iTunes playlists to play throughout the day and week.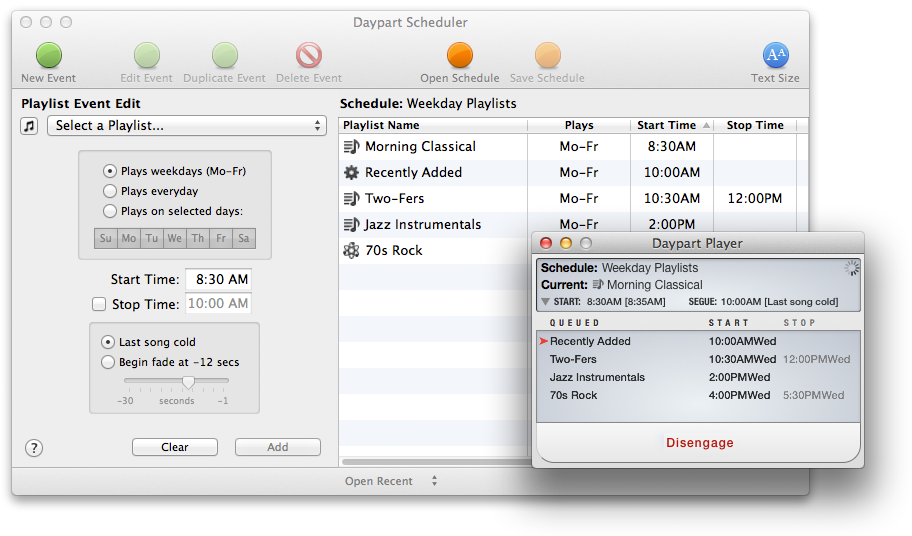 I'm very pleased with this latest version. I had the extraordinary luck of being able to assemble a great group of hardcore Daypart users as beta-testers. This group included cafe, bar and hostel operators in the US and Europe who were able to put Daypart through some serious paces. (From the German hostel owner: "400 person hostel, daily 7am wake-up program made by kids, scheduled with Daypart, transmitted via Airplay to 3 Airport Express wired to three 100 volt PA systems with speakers in each room of our hostel". Wow.)
This version fixes issues with day/week localizations, fixes a problem with setting fade seconds, tames some excessive CPU usage, improves memory mangement, and has general performance fixes for increased reliability. All current users are encouraged to update to Daypart v2.4.0.
Additionally, this version drops support for pre-OS X 10.8 operating systems. However, I have prepared a version 2.3.1 with comparable fixes for OS X 10.6-10.8 which can be downloaded from this page. Version 2.3.1 will be the last version of Daypart that runs on pre-OS X 10.8 systems.