Bug or Feature?
July 1 2021 - 11:02 am
I first posted Scan For Double Entries in 2014 when a strange iTunes issue was somehow allowing two or more track entries to point to the same media file. The script surveys the library for sets of such tracks and then isolates them in their own playlist for further scrutiny; presumably, all but one of these tracks should be deleted.
Anyway, I hadn't updated the script lately because I figured, "Aw heck. That can't still be happening."
Silly me.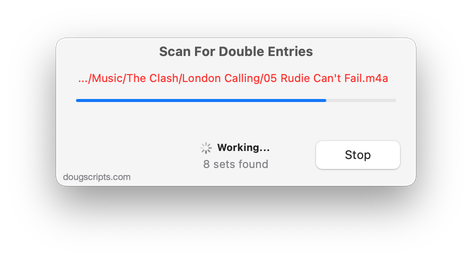 The updated version of Scan For Double Entries found 32 sets of two or more tracks where this was still happening—or, at least, had happened and that I hadn't detected 'til now.
The latest version, v4.0, has initial accommodation for macOS 12 Monterey and some UI and security updates. Specifically, it gives you a better idea of what's happening during the search for the tracks, as in the screenshot above. Earlier versions looked like they weren't doing anything during this particular part of the process.
More information for Scan For Double Entries v4.0 and download link is here.