February 2012
February 27 2012 - 10:26 am
Here's something I'm often asked which Correspondent Rob Falk put succinctly: "Is there a way to clone a playlist view…other than the Library [using Assimilate View Options]? I frequently need to create a playlist that has a specific set of columns, that are not the same as the library, and was looking for a way to automate that."
There sorta kinda is.
My first thought was to use AppleScript to just duplicate an existing playlist that already had the requisite view settings. (The duplicate command is typically used to copy a track from one playlist to another.) Unfortunately, when iTunes' AppleScript duplicate command is used to copy a playlist it—bafflingly—creates a new untitled and empty playlist using the properties and views of the Music library playlist. Same as just creating a new playlist. That doesn't seem right, does it? You'd think—well, I thought anyway—that using duplicate to copy a playlist would behave the same as the playlist contextual menu command "Duplicate" (control-click or right-click on the name of the playlist):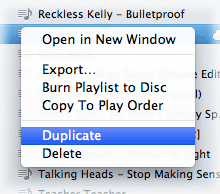 So, my next thought was…just use "Duplicate". The playlist will be perfectly duplicated, column views and all, and selected in the Source list. Now you'll have a new playlist named the same as the original with a "1" at the end and which is populated with the original's tracks (if it had any). You could create a bunch of playlists with columns set the various ways you like and then "Duplicate" them when you required one. Just rename the new duplicated playlist and delete any tracks. And that part can be automated.
The workflow, then, is to "Duplicate" a playlist manually with the contextual menu command and then run this script right afterwards: