M3Unify
September 1 2015 - 5:57 am
M3Unify is a flexible file exporter and M3U playlist creator that will allow you to off-load copies of your iTunes songs to a user-chosen location, separate folder, external drive, USB thumb drive, SD card and so on, the way you and your audio player want.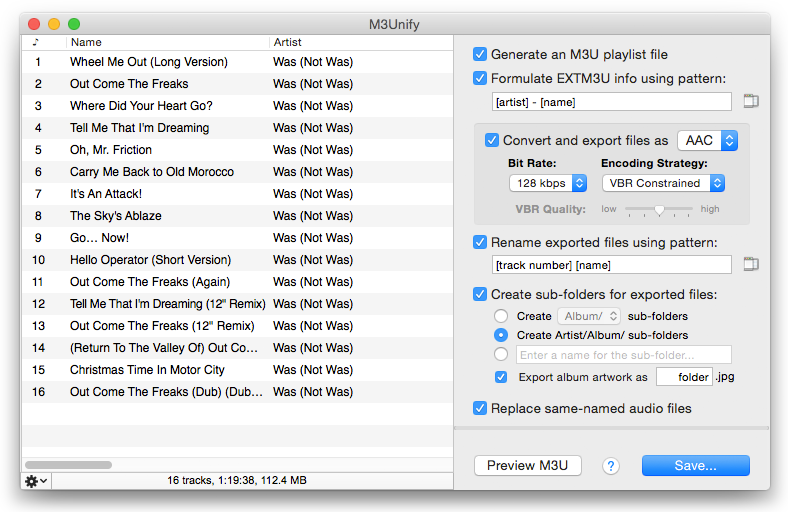 With M3Unify you can:
Copy files of tracks dragged from iTunes to a selected folder
Rename copied files using substitution patterns based on track tags
Create Album or Artist or Artist/Album sub-folders based on track tags
Export album artwork as "folder.jpg" files, one per Album sub-folder
Create an M3U playlist
Format M3U Extended track information using substitution patterns based on track tags
Optionally convert files to AAC files (or MP3 files via iTunes)
Plus, M3Unify features:
M3U preview
Track information and auditioning
Uncluttered, easy-to-use interface
On-board and online help
I use M3Unify to regularly update thumb drives that I use in my car, as I explain in this video at YouTube.
This latest version adds the ability to create discrete "Artist" sub-folders (in addition to the previous ability to create "Album" sub-folders); a preference toggle to export tracks of compilation albums into a "Compilation" folder, as iTunes does; adds a "View Options" panel; additional support for OS X 10.11 El Capitan; and minor tweaks and performance enhancements.
This is a free update for registered users. It's free to try with a 15-track limitation and $5.00 to purchase. More information and video is on this page.