Playlist Assist
July 4 2015 - 10:01 am
iTunes 12.2 introduces a new View by which to display tracks in a playlist: "Playlist". It displays a nice header with artwork from the tracks in the playlist and abbreviated tag information. I like it.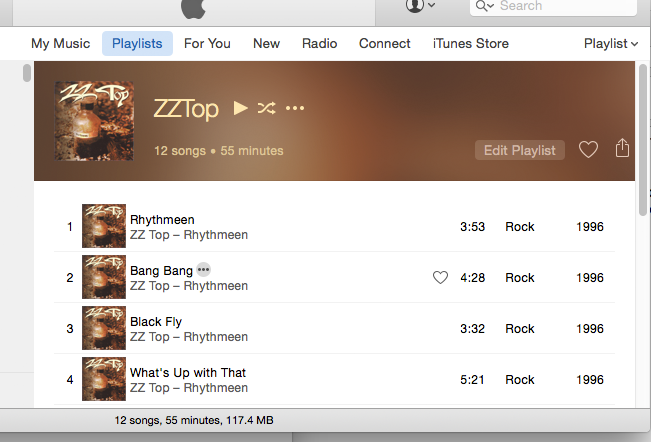 Except that there is an issue when dragging tracks from a playlist set to "Playlist" view to another drag-and-drop enabled application. The pasteboard that should contain metadata information about the tracks being dragged ("com.apple.itunes.metadata" is the name of the pasteboard type) only supplies the file paths ("NSFilenamesPboardType").
This affects my apps "Join Together", "M3Unify" and "Playlist Assist". The workaround is to either drag tracks while the playlist is in "Songs" view or drag the entire playlist by selecting its name in the Playlist Column and dragging.
I'm working on fixes for those apps.
June 4 2013 - 6:32 am
I'm happy to announce the release of Playlist Assist. Do you miss the old playlist window feature?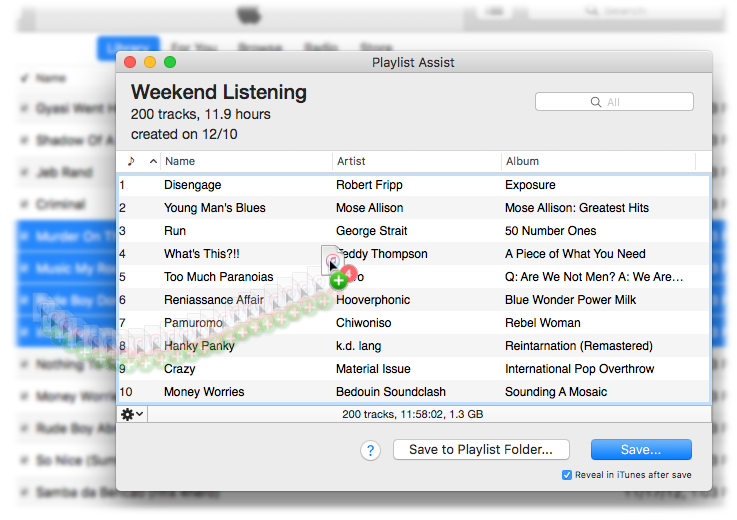 Playlist Assist provides a floating window to which tracks from iTunes can be dragged and then sorted, arranged, auditioned, edited, exported as text, and saved back to iTunes as a new playlist. Keeps playlist construction in focus while still being able to conveniently navigate around iTunes for tracks and playlists.
Playlist Assist features:
Recognizes audio and video tracks
Sort, search, shuffle, and drag-and-drop Play Order arranging
QuickLook playback
Get Info
Save as new playlist to iTunes, directly to Playlist Folders if you like
Save and play in Up Next immediately
Touch-up basic tag editing
Export playlist data as tab-delimited text, XML, M3U
Export files of tracks to Finder
Compatible with iTunes Match tracks (however, some features only apply to local files)
Familiar iTunes-like interface, ample shortcuts, update checking, in-app Help
Playlist Assist is for OS X 10.7 or later, iTunes 10 or later. Download the full-featured demo from here.