August 14 2011 - 1:01 pm
Quick Convert v3.0 will convert all or just the selected tracks of the selected Playlist using your choice of available iTunes encoders, restoring your Preferences-set encoder afterwards.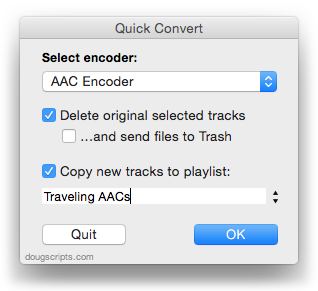 Works with importing selected CD tracks, too.
Choose to delete and/or Trash the original tracks and/or files
Copy all converted/imported tracks to a new playlist
Optionally save AAC encoded tracks as M4B "bookmarkable" and re-add the converted files to the Books library
This latest version consolidates all options into a single window and displays progress during track processing.
Quick Convert v3.0 is for OS X 10.6 or 10.7 only. Previous universal version for PowerPC machines available at the entry page.