September 27 2011 - 1:37 pm
Daypart is a simple yet full-featured Mac application that allows you to schedule iTunes playlists when to play, giving you an easy way to program varied musical content throughout the week in your home or workplace.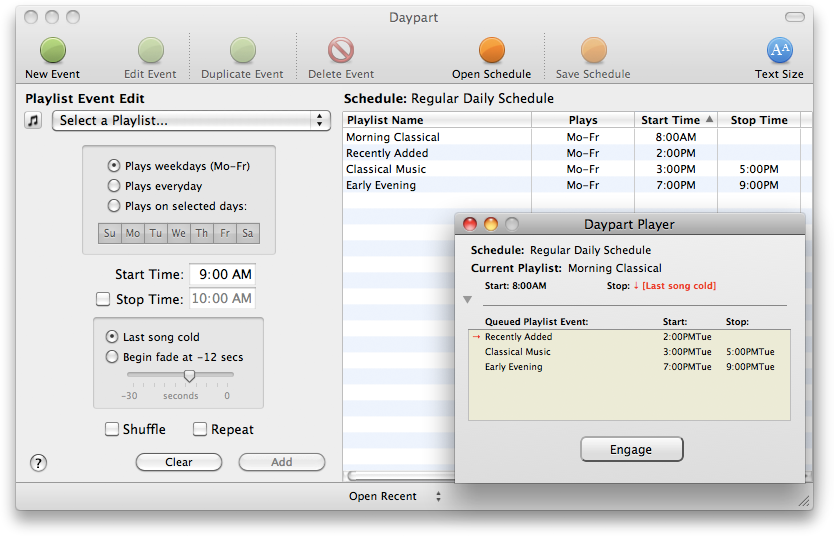 With Daypart you can:

Schedule playlists flexibly, for just a few minutes or several hours
Schedule intricate configurations of playlists on a weekly basis
Segue between playlists without cutting off songs
Automatically shuffle and/or repeat playlists
Store and re-use frequently used scheduling criteria
See how playlists are scheduled over a period of days
Automatically load and engage a schedule at startup
Plus, Daypart features:
Uncluttered, easy-to-use interface
Scheduling tips
Scheduling conflict-awareness
Detailed Help book
Updated in Daypart version 2.0.0:
Compatible with OS X 10.7 (Lion)
Adds customizable toolbar to Scheduler
Adds text size toggle for Scheduler Table
Adds "Duplicate Event" tool to Scheduler
Improves Calendar View
Improves "engaged" activity light in Player
Improves transitioning from radio stream tracks
Adds preference setting to automatically add new unique Event criteria to Templates
Adds update notification through Sparkle framework
Minor GUI changes
Many minor fixes to improve stability and performance
The unregistered demo version of Daypart will only allow you to save one Schedule with up to three Playlist Events.
The full version of Daypart costs $20.00. This update is free for all registered users of Daypart v1.x.