May 24 2013 - 9:29 am
I'm pleased to announce that Dupin v2.6 is now available.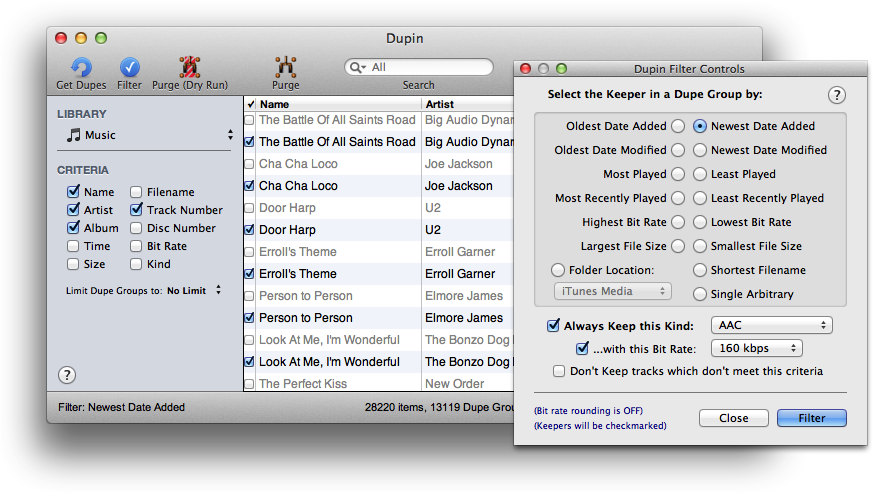 Dupin is your iTunes duplicates manager. With Dupin you can:
Very quickly find all sets of duplicate iTunes tracks based on your choice of criteria
Select the "Keeper" tracks from among a number of duplicates automatically using a variety of versatile filtering options
Consolidate the play, skip, and ratings information from all tracks in a Dupe Group to the single "Keeper" track
Re-populate iTunes playlists replacing "non-Keeper" tracks with "Keeper" tracks
Remove duplicate tracks from iTunes and send files to the Trash
Manage intentionally duplicated tracks
Copy tracks to new iTunes playlists
And much more
Updated in version 2.6:
Added "Filename" to Criteria (recognizes local files only)
Added ability to play/view selected tracks in QuickLook panel via spacebar (OS X 10.7+)
Updated "Get Info" window, incorporating play/pause album artwork thumbnail (OS X 10.7+)
Improved sorting algorithms
Addressed issues with restoring windows
Moved "List Font Size" options from Preferences to View menu
Minor UI changes
General maintenance fixes and improvements
This is a free update for registered users of Dupin v2.5 and later. More information and download here.