November 26 2014 - 12:11 pm
MP3, AAC and ALAC audio files have the capability to store artwork as image data as metadata internally. In this way, artwork can "travel" with the file. But it's not always easy to tell if an audio file actually contains this metadata. For example, even though a track entry may have assigned artwork (which you can see in iTunes), its corresponding file may not include that artwork as metadata.
Tracks Without Embedded Artwork will examine the files of the selected iTunes tracks (or tracks in the selected playlist) for artwork metadata. Eligible audio tracks whose files do not contain artwork metadata will be copied to a new discrete playlist.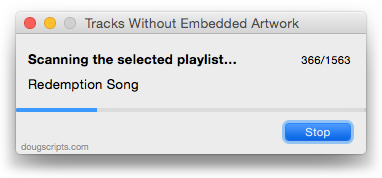 Once these tracks have been corraled, you can use other applets to embed their artwork to their files.
Tracks Without Embedded Artwork is free to try full-featured for ten days, $1.99 to purchase. More information and download is here.