February 26 2015 - 9:37 am
Show In Playlists displays a persistent floating window that will list the playlists containing the selected or playing tracks in iTunes.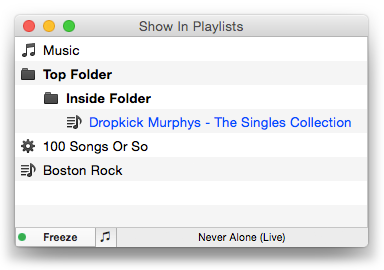 This latest version adds a toggle to monitor just selected tracks or just playing tracks. I also had to pull support for OS X 10.8 since it doesn't seem to like a few modern coding features. I may not be able to fix that.
Here's a short video showing how to make it go:
Show In Playlists is free to use for ten days and $1.99 to purchase. More information and download is here.