May 3 2015 - 3:25 pm
Make Playlists By Tag v2.0 will create Music track playlists based on each selected entry of a specified tag. That is, create individual playlists by Artist, Album Artist, Album, Composer (and their "Sort" siblings), Genre, or Year.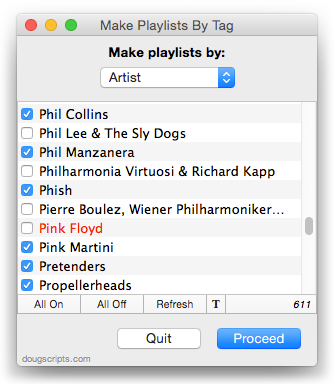 In the screenshot above, the script will create a playlist for each checkmarked Artist.
This latest version is essentially a maintenance update for better compatibility with Yosemite and also fixes an issue where tags containing white space characters would appear as blank; now the script ignores such tags.
OS X 10.8 and later only. More info and download is here.