July 20 2015 - 2:22 pm
Music Folder Files Not Added v5.0 will list the file paths of the files in your designated "iTunes Media" folder which are not in iTunes' track library.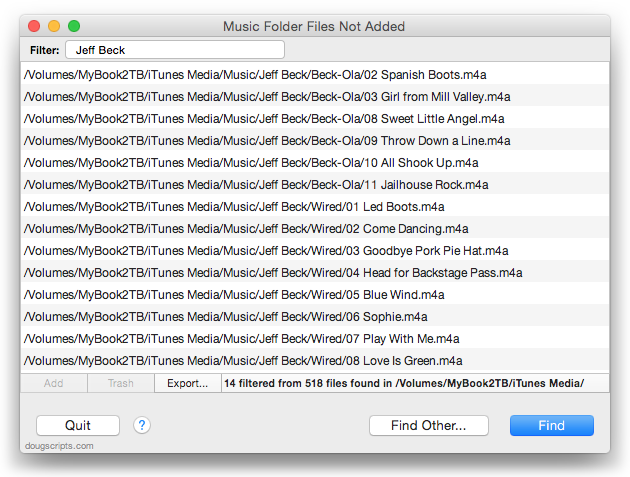 The files listed in this screenshot are in my iTunes Media/Music/ folder but are not in the iTunes track library. In my case, this iTunes Media folder is used by two different iTunes installations on different partitions, so it is also possible that these files are added as track entries in the iTunes on the other partition. However, it is not uncommon to delete the tracks from iTunes without choosing to Trash the files.
Additionally, you can select a different parent folder and its contents will be compared to the iTunes library. Includes options to Filter results, Add a selection of found files to iTunes (Mobile Applications can not be added this way), move them to the Trash, and Export a text file listing the file paths.
This latest version includes PDF, Mobile Application, iTunes LP and iTunes Extra files when used with iTunes 12.2 or later; adds a Filter option to show only file paths containing entered text; has general performance tweaks.
Music Folder Files Not Added is free to try for 10 days and is $1.99 thereafter. More information and download is on this page.