April 22 2017 - 5:48 am
M3Unify is a simple file managing app that can copy and arrange audio files to a selected folder, volume or portable media. Tracks can be dragged from iTunes or files can be dragged from the Finder. When loaded in M3Unify, a set of flexible exporting options enables you to arrange your music files the way you and your music player want.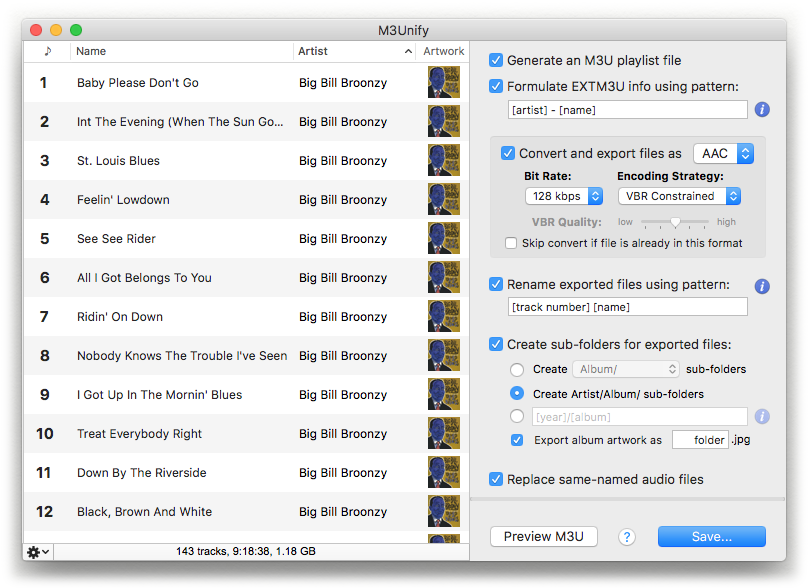 With M3Unify you can:
Copy files of tracks dragged from iTunes or the Finder to a selected folder
Rename copied files using substitution patterns based on track tags
Create Album or Artist/Album sub-folders based on track tags
Export album artwork as "folder.jpg" files, one per Album sub-folder
Create an M3U playlist
Format M3U Extended track information using substitution patterns based on track tags
Optionally convert files to AAC files (or MP3 files via iTunes)
Plus, these features:
M3U preview
Track information and Quick Look auditioning
Uncluttered, easy-to-use interface
On-board and online help
This latest version adds a preferences option to rename files and sub-folders using strictly limited alphanumeric character set; improves handling of .AIFC files; other enhancements and performace fixes.
M3Unify is $5, free for current registered users, video demo after the jump, download is on this page.