June 8 2018 - 9:42 am
M3Unify is a flexible file exporter and M3U playlist creator that will allow you to sensibly off-load copies of your iTunes songs to a user-chosen location—separate folder, external drive, USB thumb drive, SD card and so on—the way you and your audio player want.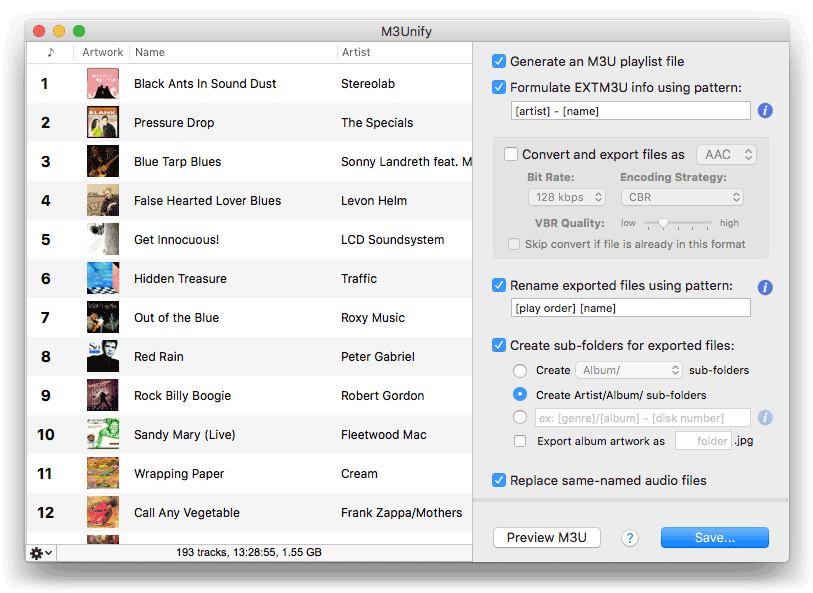 M3Unify can archive playlists and audio files to a folder, volume or portable media and includes options to create Artist/Album sub-folders, rename files, convert to lossy formats, export album artwork, and more.
Watch the video demonstration.
M3Unify v1.10.0 adds these new features:
Adds ability to open/drag-and-drop an M3U playlist file to "add" the accessible files it references
Adds "Export M3U Using Relative Paths" option to create M3U playlist based on relative paths of files already in established locations
Adds feature to remove duplicated entries
Adds "Kind" column for better sorting of different audio types
Adds option to show the Finder Information Window for a file
M3Unify is easy to configure and use. Try the nearly-full-featured demo for yourself. A license to make M3Unify fully-full-featured is $5.00. This update is free for registered users—who are the greatest!