January 1 2020 - 8:44 pm
For macOS 10.15 Catalina and later only. This script will rename the files of the selected tracks (or the files of the tracks in the selected playlist) using a substitution pattern that you formulate from the tracks' tag data. Optionally, export a copy of the files to a chosen location and rename the files in that location.
Works optimally with "Keep Media folder organized" un-checked.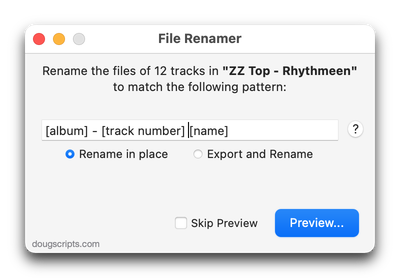 Latest version:
Fixes problem with [play order]
Re-configured how the Preview window is/is not displayed
Minor performance enhancements
More information for File Renamer v4.5 and download link is here.