March 22 2020 - 9:59 am
For macOS 10.15 Catalina and later only. Capitalizes the first letter of each word in your choice of the Name, Artist, Album Artist, Album, Comments, Composer, Grouping, Movement, Work, or Show tags of the selected tracks, but based on conventional rules of title capitalization in the English language. Thus, "what it feels like for a girl (above and beyond 12'' club mix)" becomes "What It Feels Like for a Girl (Above and Beyond 12'' Club Mix)". Two user-editable Exception Lists can handle words that should not be title-capped or modified. Test Run feature enables you to see what would be changed displayed in a separate Test Run Log window.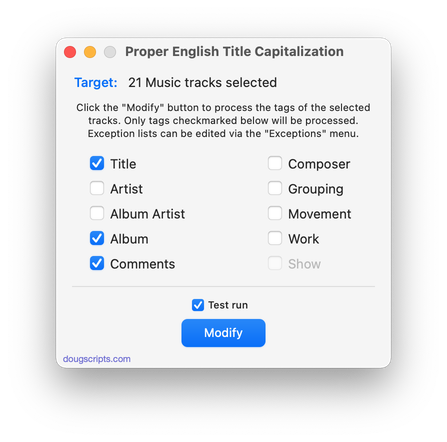 Latest version:
Maintenance update
UI adjustments, minor performance enhancements
More information for Proper English Title Capitalization v4.2 and download link is here.