March 8 2020 - 12:34 pm
For macOS 10.15 or later. This script lets you delete a specified number of characters from either the beginning or the ending of the Song Name, Album, Album Artist, Artist/Director, Category, Comments, Composer, Episode ID, Grouping, Show (or their "Sort" siblings) , Movement or Work tag of each selected track. For example, delete the initial digits and the space from "01 First Track", "02 Second Track", and so on.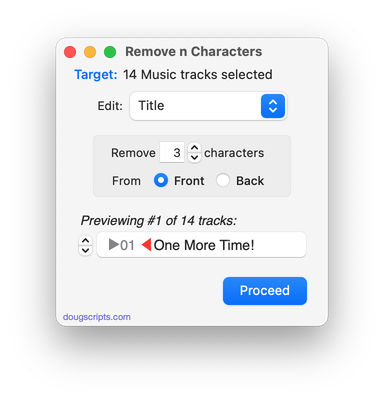 Latest version:
Removes 10-day trial; un-registered versions work on five tracks per launch
Adds Category tag for Music tracks
Performance, logistics and UI enhancements
More information for Remove n Characters From Front or Back v6.3 and download link is here.