July 26 2020 - 4:06 pm
For macOS 10.15 and later only. Play through each track in a playlist by a set number of seconds (:05 - :60) from the end. Additionally, wait a set number of seconds between each track; when engaged, begins playing from the first track or the first selected track in the playlist.
For best results clear the Up Next queue before engaging.
Also see Needle Drop.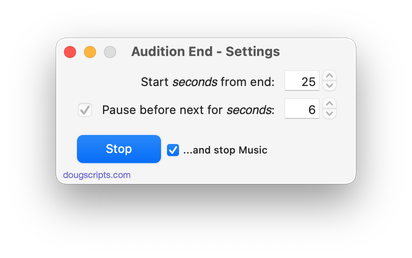 Latest version:
Accommodations for macOS 11 Big Sur
Performance, UI and security enhancements
More information for Audition End v3.2 and download link is here.