July 19 2020 - 1:49 pm
For macOS 10.15 and later only. This script will export the artwork of the selected tracks (or the tracks in a selected playlist) as an image file to the folder which contains each selected track's file--presumably each track's Album folder--or a single user-selected folder. If multiple album tracks are selected, the script will make sure only one artwork file per Album is exported.
Also see Save Album Art as folder.jpg.
This app is free to try full-featured in Demo Mode. In Demo Mode it will only process 5 image files per launch. If you like it you can purchase a code for $1.99 which will unlock the 5-image restriction. Launch the app and click "Register…" in its File menu to make an in-app purchase.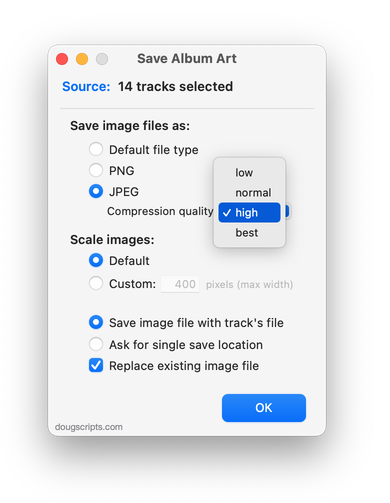 Latest version:
Accommodations for macOS 11 Big Sur
Performance, UI and security enhancements
More information for Save Album Art to Album Folder v6.6 and download link is here.