November 4 2020 - 5:27 pm
For macOS 10.15 and later only. This applet will traverse the Media folder looking for and displaying any sub-folders that are either empty or that do not contain Media-apps-playable media, such as text or image files.
Free to use in Demo Mode: While in Demo Mode, several convenient features will be disabled, including
Show Finder Information Window
Reveal in Finder
Send to Trash
Select all Empty/non-Empty
Scan other user-selected folder
Also see Media Folder Files Not Added.
To purchase a registration code, download and launch the app. Click "Register..." in its File menu and follow the prompts to purchase a code for $2.99. When your payment is processed, you will be emailed a registration code that will unlock the Demo Mode restrictions.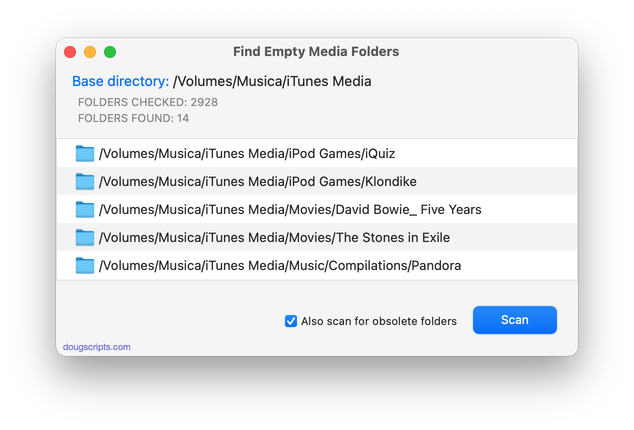 Latest version:
Accommodations for macOS 11 Big Sur
Performance, UI and security enhancements
More information for Find Empty Media Folders v2.3 and download link is here.