November 4 2020 - 1:18 pm
For macOS 10.15 and later only. This applet will assist with swapping, copying, and appending data between two user-chosen tags in selected tracks or tracks in the selected playlist:
Swap - swap data between tags, ex: ARTISTCOMPOSER
Copy - copy data from one to another tag, ex: ARTIST->COMPOSER ARTIST
Append - append data from one tag to the end of another, ex: ARTIST->COMPOSER - ARTIST
Prepend - append data from one tag to the beginning of another, ex: ARTIST->ARTIST - COMPOSER
The latter three actions also provide an option to delete the info from the first tag after the copy. Read Me explains all.
This app is free to try full-featured in Demo Mode. In Demo Mode it will only process 12 tracks per launch. If you like it you can purchase a code for $1.99 which will unlock the 12-track restriction. Launch the app and click "Register…" in its File menu to make an in-app purchase.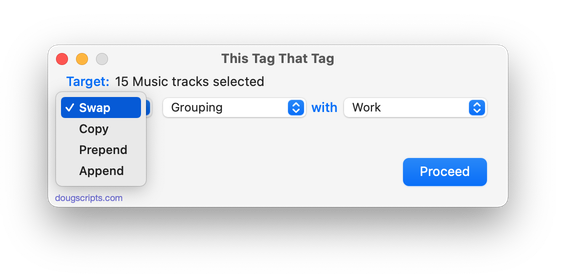 Latest version:
Accommodations for macOS 11 Big Sur
Performance, UI and security enhancements
More information for This Tag That Tag v5.6 and download link is here.