April 15 2021 - 1:04 pm
For macOS 10.15 and later only. Drag and drop audio files to this droplet to have the Music app convert them with an encoder selected on the fly, restoring the Preferences-set encoder afterwards, and save them to a user-selected location. The converted files/tracks are removed from the Music app, as though it "never saw them". Includes option to delete the source audio files.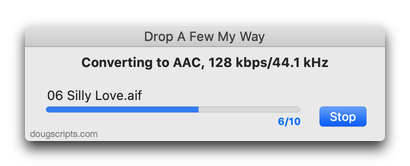 Latest version:
Fixes regression whereby source files/tracks not removed from Music library
More information for Drop A Few My Way v5.3 and download link is here.