September 20 2021 - 8:49 pm
For macOS 11 and later only. Play through each track in a playlist by a set number of seconds (:05 - :60) from the end. Additionally, wait a set number of seconds between each track; when engaged, begins playing from the first track or the first selected track in the playlist.
Also see Needle Drop.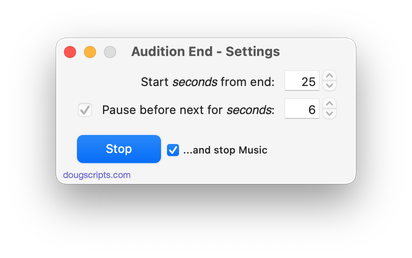 Latest version:
Accommodation for macOS 12 Monterey
Minor performance and UI enhancements
More information for Audition End v3.6 and download link is here.