September 17 2021 - 4:00 pm
For macOS 11 and later only. This script applet will convert a selection of files in the Finder using an encoder from the Music app. Converted files can be saved to a user-selected location and will be removed from the Music app after the process...as though it "never saw them". Includes options to create a "Converted" subfolder and delete source files.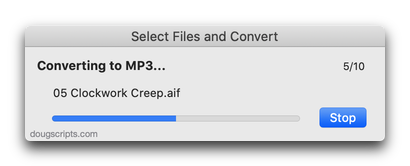 Latest version:
Accommodations for macOS 12 Monterey
More information for Select Files and Convert v2.0 and download link is here.