Managing Tracks
November 3 2020 - 9:56 am
For macOS 10.15 and later only. This applet checks your Music or TV library for missing and presumed dead tracks--those tracks that have become disassociated from their file and which are listed with a "!"--and can delete them from the app or create a text file listing these tracks by last known File Path, Song Name, Artist and Album, which you can view using TextEdit.
Also see Super Remove Dead Tracks and Media Folder Files Not Added.
Free to use in Demo Mode: While in Demo Mode, dead tracks will be displayed and can be exported as a list to a text file. Delete from Music/TV and other features will be disabled.
To purchase a registration code and remove these restrictions, download and launch the app. Click "Register..." in its File menu and follow the prompts to purchase a code for $2.99. When your payment is processed, you will be emailed a registration code that will unlock the Demo Mode restrictions.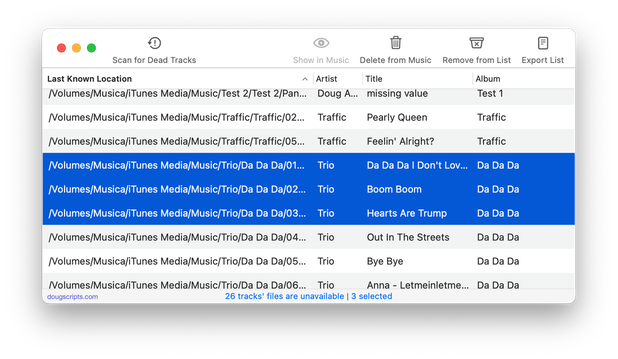 Latest version:
Additional accommodations for macOS 11 Big Sur
More information for List MIAs v5.8 and download link is here.