Monterey
October 30 2023 - 12:59 pm
This applet will copy specific tag data from one set of selected tracks to a second set of selected tracks. You can copy any combination of Checkmark, Song Title, Artist, Album Artist, Album, Genre, Year, Disc and Track, Composer, Grouping, Work, Movement, BPM, Comments, Lyrics, Rating, Favorite/Suggest Less, Plays/Skips, Artwork and Compilation.
Use with thoughtfulness. Both sets of selected tracks should be sorted by Play Order/Playlist Order (or at the very least using the same sorting) so the tag info is copied in the correct order from and to the intended tracks.
Only tracks in the local Media library are accessible. Tracks in the Apple Music interface are inaccessible.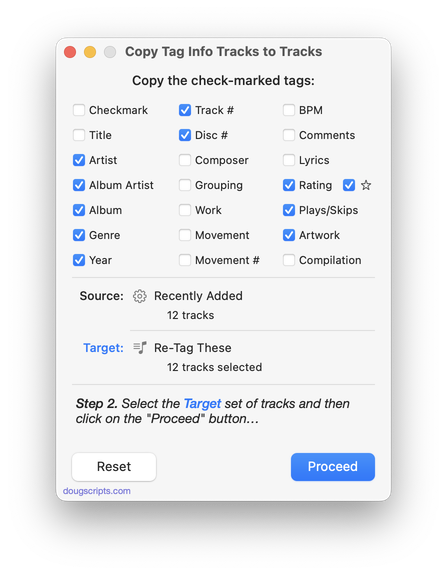 Latest version:
Minor UI changes to mimic Music app's (1.4.1+) Favorite and Suggest Less terminology
More information for Copy Tag Info Tracks to Tracks v6.8 and download link is here.