March 7 2007 - 1:27 pm
I've been messing with Wikipedia to get info for various artists (see Search Wikipedia). But I wanted to be able to save the info, perhaps even including it in iTunes for future reference. Can do. Today I tried this trick: use Safari to go to the Wikipedia page containing info on your favorite artist. Click "Print" in Safari's File menu and then click "Save as PDF" in the PDF drop-down. Optionally, hit the "Preview" button in the Print dialog to see what the PDF will eventually look like after it's saved and then save it as a PDF.
Once the PDF has been saved, use PDF Adder to add it to iTunes. The "PDF Adder" script in that collection will let you choose an existing PDF file and add it to iTunes and provide Album and Artist tags to the new PDF so that it will be sorted with the associated Album. If your iTunes Advanced>General Preferences is set to "Copy files to iTunes Music folder when adding to library" the PDF will be copied to your iTunes Music Library folder, and the original PDF can be Trashed.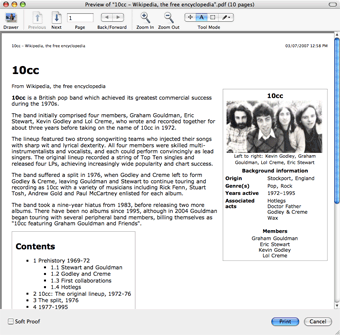 As far as Wikipedia goes, it appears they use a "print.css" file that fomats the page for printing. This maintains formatting while eliminating the sidebars and such. Other sites may do so as well--like the one you're looking at now ;).