November 9 2014 - 2:51 pm
PDF Adder is a collection of two AppleScripts that each assist with adding PDF files to iTunes as "digital booklet" PDF tracks. Each provides an interface for easily supplying Author (artist), Album, Category (genre), Year, Rating and Description tag data which is then applied to the newly-added PDF track entry in iTunes: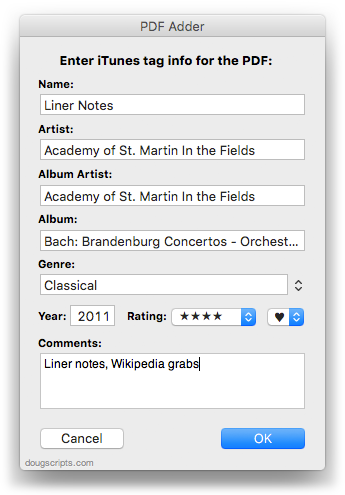 Add as PDF to iTunes is a PDF Service workflow that, when installed, will be available in the PDF pop-up menu of the Print Dialog. It allows you to save the current document as a PDF file (from any application that uses the Print Dialog) and add it to iTunes. I describe here how I use it with Safari Reader.
PDF Adder is an applet/droplet that will let you choose or drag-and-drop an existing PDF file and add it to iTunes. It can be installed in iTunes' Scripts folder for easy access from iTunes Script menu.
Anything you can print from the Print Dialog, you can make into a PDF. And any PDF can be added to iTunes.
The latest version of each script is compatible with Yosemite and has a few minor tweaks for better performance.
More information and download is here.