March 12 2015 - 12:08 pm
Quick Convert v4.1 will convert all or just the selected tracks of the selected Playlist using your choice of available iTunes encoders, restoring your Preferences-set encoder afterwards. Works with importing selected CD tracks, too.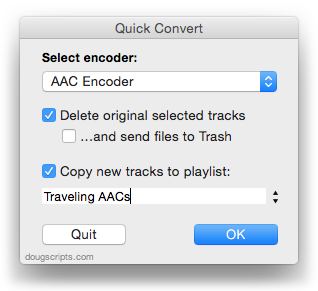 Additionally, you can:
Choose to delete and/or Trash the original tracks and/or files
Copy all converted/imported tracks to a new playlist
Optionally save AAC encoded tracks as M4B "bookmarkable" and re-add the converted files to the Audiobooks (Books) library
This latest version restores the Edit menu, which I removed during some kind of fit of minimalism. Unfortunately, you kind of need that guy if you want cut, copy and paste shortcuts to work in the app. There are also some minor maintenance fixes.
Quick Convert is free, but payment in appreciation requested. More info and download is here.