May 18 2015 - 5:45 am
Albums Assemble will discern the Album tags of the selected tracks and then copy all the available tracks of each of those Albums to the current playlist, other existing playlist or new playlist.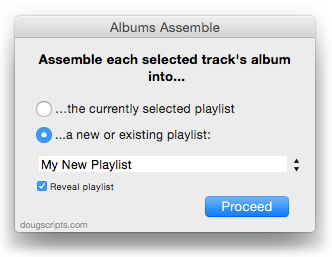 Works with tracks selected in iTunes or a mounted iPod/iOS device set to manually manage tracks.
More info and download is on this page.
Previous Scripts of the Day. Subscribe to my RSS feed or follow @dougscripts on Twitter to get daily "Script of the Day" notifications.