May 10 2015 - 9:04 am
Needle Drop plays each track in the selected iTunes playlist for a set time interval optionally starting at a set number of seconds into each track, beginning with the selected track. Handy for 'scoping playlists.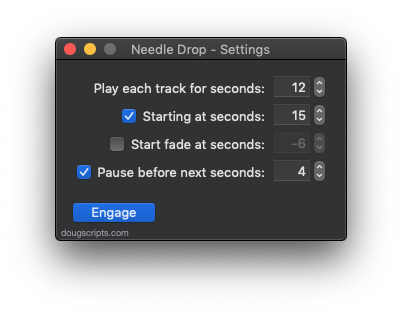 With the settings above, each track in the selected playlist will play for 30 seconds starting at the track's 00:30 second mark; there will be a 00:05 second delay before the subsequent track plays. The latter two settings are optional.
More info and download is here.
Previous "Scripts of the Day". Subscribe to my RSS feed or follow @dougscripts on Twitter to get daily "Script of the Day" notifications.