May 9 2015 - 8:03 am
Append to Selected Tag can append the same user-entered text to the beginning or ending of the existing text in the chosen tag (Song Name, Artist, Album Artist, Album, Composer, Comments, Genre, Grouping or Show Name, and their Sort siblings) in each selected track.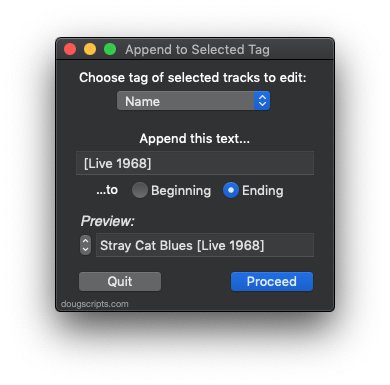 In this screenshot example, the text " Live" will be added to the end of the Genre tag of every selected track, no matter what its current Genre tag is. They don't all have to be the same.
The Preview field can be used to scroll through each track's target tag to make sure everything looks satisfactory.
More info and download is here.
Subscribe to my RSS feed or follow @dougscripts on Twitter to get daily "Script of the Day" notifications.