May 25 2015 - 6:20 am
Remove n Characters From Front or Back will delete a specified number of characters from either the beginning or the ending of the Song Name, Album, Album Artist, Artist, Comments, Composer, Episode ID, Grouping or Show tag (or their "Sort" siblings) of each selected track.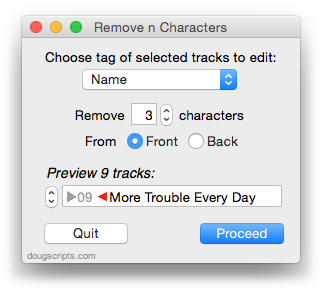 Includes a Preview to check each selected track's tag before committing. The window is re-sizeable so that longer tags can be viewed more easily.
More info and download is on this page.
Previous Scripts of the Day. Subscribe to my RSS feed or follow @dougscripts on Twitter to get daily "Script of the Day" notifications.