June 15 2015 - 6:10 am
AMG EZ Search will initiate a "search all" of the allmusic website (also known as the "All Music Guide" or AMG) based on your choice of the Song Name or Artist or Album of the selected or playing iTunes track.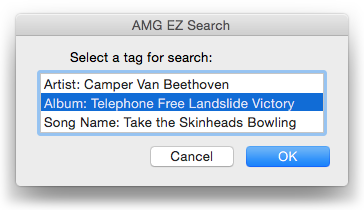 Results will be displayed in a new window in your default web browser.
More information and download is on this page.
Previous Scripts of the Day. Subscribe to my RSS feed or follow @dougscripts on Twitter to get daily "Script of the Day" notifications.