August 6 2015 - 9:27 am
Sort by Artwork Size v1.1 can write the size of a track's artwork (eg: "600x600") to choice of Category, Comments, Description or Episode ID tag (enabling tracks to be sorted by artwork size in a playlist using the chosen tag) and/or copy tracks with artwork less than or greater than a user-entered size to a new discrete playlist.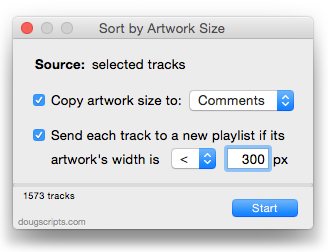 Note that if choosing the first option, the chosen tag will be re-written so it is best to choose a tag that is not already in use or not typically associated with a track's kind; for example, use the Episode ID tag (a TV Show tag) for music tracks or the Category tag (a Podcasts tag) for videos.
This latest version adds support for OS X 10.11 and accommodates changes in iTunes 12.2 and later.
Free to try for ten days, $1.99 thereafter. More info and download is on this page.