August 25 2016 - 7:00 am
I've updated Copy Tag Info Tracks to Tracks so it will work with the new Work, Movement and Dislike tags that are debuting in iTunes 12.5 and which are already available in the Developer and Public beta releases.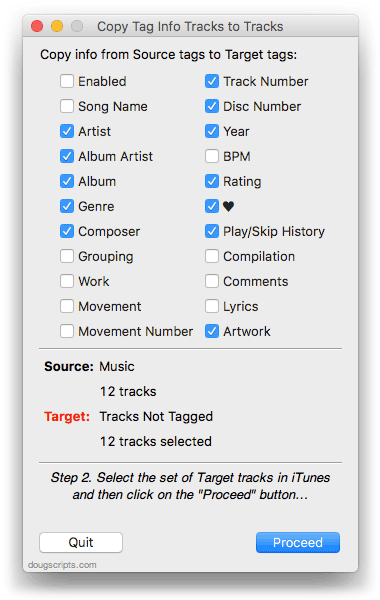 Copy Tag Info Tracks to Tracks will copy the text of the checkmarked tags from one set of selected tracks to a second set.
This latest version also consolidates Plays, Skips and associated date tags under a single checkbox. And because there seems to be some weirdness with retreiving Sort tags—the implicit text iTunes uses as gray placeholder text is recognized even if these tags are ostensibly blank—I've removed the option to copy them.
Copy Tag Info Tracks to Tracks v5.0 is free, with appreciative payment requested, and works on OS X 10.8 and later.