August 7 2017 - 9:19 am
I don't burn CDs much anymore these days. Sad! So when a Correspondent inquired if a script could be written to split up a very long playlist into CD-sized "sub-playlists", I fuzzily recalled (and Kirk confirmed) that iTunes will ask for additional blank CDs if a single CD is insufficient; such a script would be unnecessary.
But then I thought that there might be other reasons to split up a large playlist into smaller playlists. Say, for example, one wanted to limit the CD contents to only 60 minutes. Or, forget about burning CDs (which, I guess, I have), maybe smaller playlists would be convenient for one's listening regimen.
So I wrote the script anyway. It was a fun Sunday morning project yesterday.
Divvy Up A Playlist will copy the tracks of a selected user-created playlist in their Play Order to a series of new, smaller playlists each set to a maximum time length and each named with a user-supplied base name and number suffix incremented sequentially. Additionally, the new playlists can all be moved to a new Playlist Folder, like so: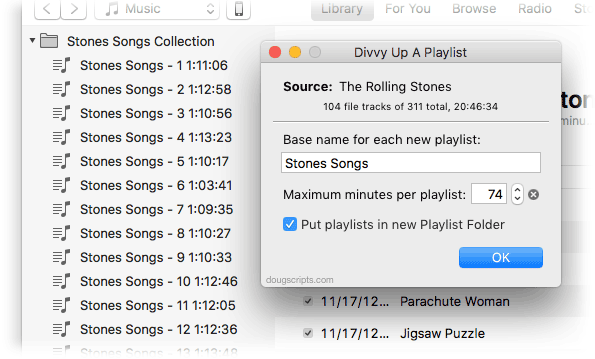 These particular playlists contain local file tracks as well as remote iCloud Music Library tracks, so I couldn't really burn CDs from them. But whenever I want to listen to my Rolling Stones collection in 74 minute chunks I'm all set (the script can create "sub-playlists" limited in size from 30 to 120 minutes; 74 minutes is the size of a typical CD).
Divvy Up A Playlist is for macOS 10.10 and later and free to use with a donation nag. More information and download is on this page.
[UPDATE; Many thanks to the first downloaders who reported a bug in v1.0. Quickly patched!]